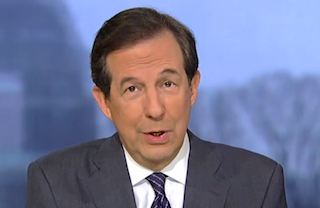 While Donald Trump tends to prefer phone interviews, this weekend he will be sitting down in person with Chuck Todd in Iowa for Meet the Press. During his radio show Thursday, Fox & Friends co-host Brian Kilmeade asked his colleague Chris Wallace if he views the NBC booking as an "in your face" for what Trump has said were "unfair" debate questions from Fox.
Joking that he doesn't have "subpoena power" over Trump, Wallace pointed out that over the last few weeks the candidate has "done a lot of phoners," something he has vowed not to do with any of the presidential contenders on his Fox News Sunday show.
"The idea you would do a phoner with a presidential candidate where they have all the control and you have none, where you can't see them, they may have talking points in from of them," Wallace said. "We are not a call-in radio show, we are a Sunday talk show and he is a presidential candidate — do an interview on camera."
With his remarks, Wallace was not only being "critical" of competitors like Todd, CNN's Jake Tapper and other competitors who have hosted Trump via phone, but also of Kilmeade and his Fox & Friends co-hosts who seem to speak to the candidate over the phone on a weekly basis.
"As far as him doing Chuck Todd and not me, we invited him, they said he wasn't available," Wallace added. "I guess he was available to someone else, we'll survive."
Listen to audio below, via Fox News Radio:
[h/t Politico]
[Photo via Fox News]
— —
>> Follow Matt Wilstein (@TheMattWilstein) on Twitter
Have a tip we should know? tips@mediaite.com