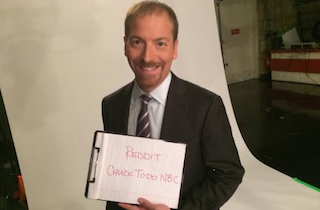 NBC News Political Director Chuck Todd is set to conduct an exclusive interview with President Barack Obama on his first Sunday hosting Meet the Press this week. But before he sits down to ask the president questions, Todd subjected himself to some during an Ask Me Anything session on Reddit Friday.
Todd answered questions about everything from the political support for medical marijuana to the state of polling in America. But one of the most revealing moments came when he was asked to sum up the president's legacy.
He responded:
He broke an important ceiling — he'll always be America's first black president. That is not an insignificant legacy. That's a major barrier that was broken. Hard stop… As for the rest of his presidency… I've pondered this a lot (even am finishing up a book attempting to start this conversation). Legislatively, health care is also a major legacy; it's here to stay… now, is it a positive legacy or a negative one? We may not know for years. On foreign policy, this is where his legacy is the fuzziest. Is he a victim of circumstance? Did he make mistakes responding to the Arab Spring? I think that's going to be a long post-Obama presidency debate among many folks for years. Finally, his most important NEAR-term legacy is how his campaigns of 2008 and 2012 forever changed how campaigns are conducted, both financially and on the ground level front, re: targeting. I'm not sure the advent of multi-billion campaigns is healthy for the long term, but no doubt POTUS' campaigns completely transformed how all campaigns are now run, period
The host did not want to "show his hand" in terms of the questions he plans to ask the president on Sunday, but he did say he would cover the "obvious" topics: "ISIS, Ukraine/Putin, Ebola, immigration, upcoming election."
He also defended NBC from charges of "nepotism" regarding the network's decision to bring Luke Russert on as a regular presence on Meet the Press. "I see first hand how hard Luke works on the toughest but most fruitful political beat in the country — Capitol Hill. Judge him by his work not by what others claim to think or say," Todd said.
And of course, more than one question concerned Todd's facial hair of choice. Asked if he would ever consider shaving off his goatee, he answered:
I guess I should never say never; I could mess up shaving one morning where I have to shave it for the day… but honestly, every time I look in the mirror and at that beard, I see my late father. Shaving it off would feel like getting rid of a piece of him that I carry every day. Sorry for playing sentimentalist, but it happens to be true
In response to another similar question, he explained that he father had a full beard, but he opted for something different. "I didn't like my full beard so I tried a goatee… liked it better and never really gave it up for the reasons I stated earlier regarding my late father," Todd wrote.
[Photo via Reddit]
— —
>> Follow Matt Wilstein (@TheMattWilstein) on Twitter
Have a tip we should know? tips@mediaite.com