CNN: Doctored Email Exchanges Between Haab Family and CNN Shopped Around to Media Outlets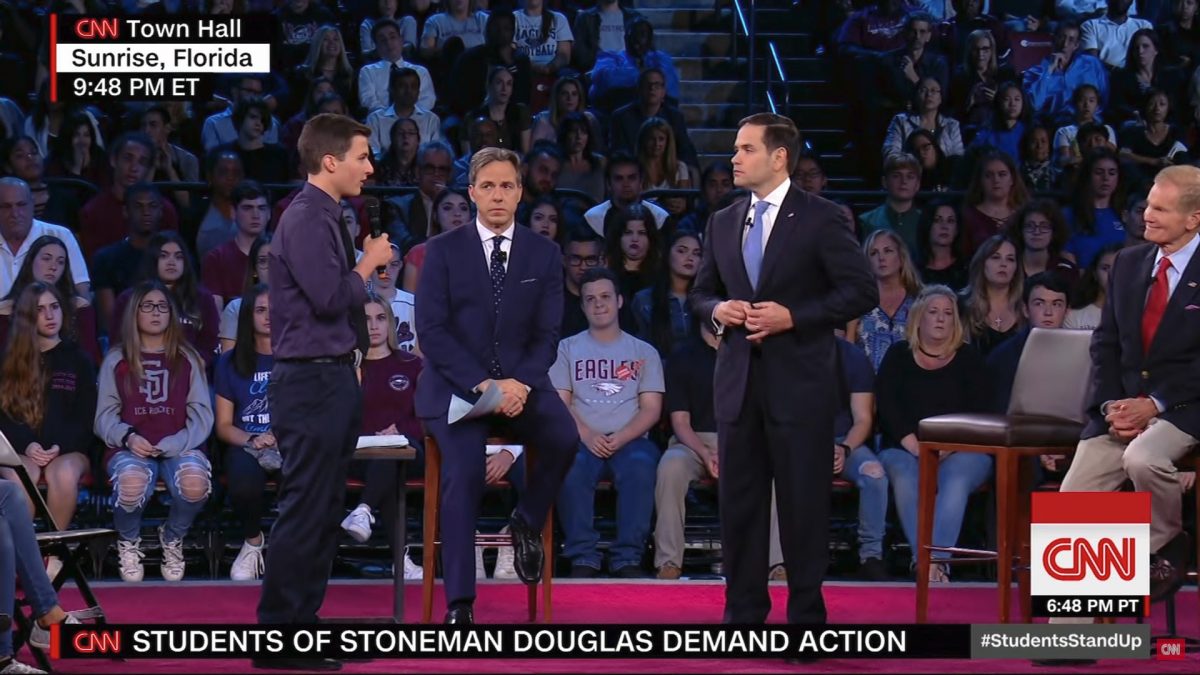 Email exchanges between CNN and the Haab family purporting to show that a CNN producer scripted a question for a teenage student at a recent town hall event appear to be doctored, based on documents that Mediaite has reviewed from CNN. At least two outlets, Fox News and Huffington Post, reached out to CNN to inquire about a possible story.
"The Stand Up: The Students of Stoneman Douglas Demand Action Town Hall was intended to be a forum for students, parents and teachers to speak directly to the elected leaders and stakeholders that are at the center of this critical issue," a CNN spokesperson told Mediaite. "It is unfortunate that an effort to discredit CNN and the town hall with doctored emails has taken any attention away from the purpose of the event. However, when presented with doctored email exchanges, we felt the need to set the record straight."
Over the past couple of days, a controversy has arisen involving a Marjory Stoneman Douglas student and CNN over the network's town hall event surrounding the Parkland shooting. The student, 17-year-old Colton Haab, alleged after the forum aired that CNN had censored him and instead tried to give him "scripted" questions to read.
Following Haab's accusation, CNN vehemently denied they provided or scripted questions to Haab or anyone else. Below is their initial statement:
There is absolutely no truth to this. CNN did not provide or script questions for anyone in last night's town hall, nor have we ever. After seeing an interview with Colton Haab, we invited him to participate in our town hall along with other students and administrators from Marjory Stoneman Douglas High School. Colton's father withdrew his name from participation before the forum began, which we regretted but respected. We welcome Colton to join us on CNN today to discuss his views on school safety.
Following the release of CNN's statement, Haab appeared on Fox News' Tucker Carlson Tonight to detail his exchange with CNN producer Carrie Stevenson regarding his participation at the town hall. In his conversation with Tucker Carlson, Haab stated that Stevenson wrote his question and CNN put their own words in it.
The student went on to explain the back and forth with he had with a CNN producer, who rejected a long speech he had written for the town hall. Haab said he subsequently sent a set of questions in, including one on arming teachers — which he claimed the producer "wrote that question out for me."

Carlson reacted with shock, asking "they put their own words into your question?"

When Haab confirmed, Carlson pressed "but that seems dishonest?" Haab agreed, and said that was one of the reasons he decided not to attend the town hall — adding that he thought CNN had also written questions for the other students.

"It was very upsetting to me," Haab said.
Following Haab's appearance on Fox News, Mediaite obtained copies of the original email exchange between Colton Haab, Colton's father Glenn, and Stevenson. The first one, dated Feb. 21 and sent at 12:10 AM, shows Colton submitting a number of questions he'd like to ask at the event: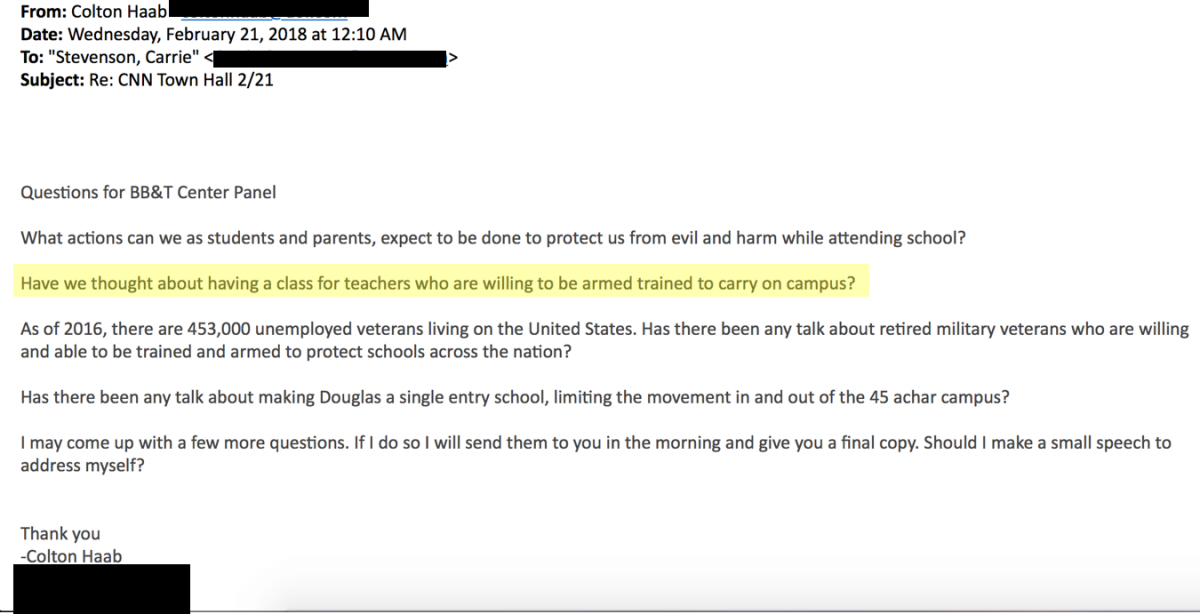 This is followed by an email to Glenn from Stevenson, sent later that day at 5:46 PM, referencing that she had previously spoken on the phone with Colton and she was asking that he stick to just the one question "that he submitted," which was then written in full:

Glenn replied shortly after, in an email sent at 5:53 PM, telling Stevenson they "are not actors nor do we read from a script," adding that he knows Stevenson only wants Colton to "read this one short question" but that they "are not the right people for your town hall meeting."

Comparatively, the emails provided to Huffington Post and Fox News show one very big difference. In the email purportedly from Stevenson provided by the Haab family, the second paragraph is changed from the original email provided to Mediaite. The email provided to the Huffington Post reads: "This is what Colton and I discussed on the phone. He needs to stick to this."
Below is a copy of the doctored email that was sent to the Huffington Post:

An additional email exchange provided by Fox News to CNN and inquiring for comment shows the same language.

The change leaves out the important context from the original email, which included "that he submitted," making clear that the question came from Colton.
According to a CNN source, after Colton sent over his list of questions he wanted to ask at the town hall, Stevenson spoke on the phone with the student to decide on which question he'd use. The framing language for the question that was emailed over later came verbatim from a Fox & Friends interview Colton had done that helped draw CNN's attention to him.
Prior to Stevenson sending Colton's father the email asking that Colton "stick" to the question that he submitted, the source noted that Glenn had been in touch with Stevenson telling her that Colton would like to be given an opportunity to say more. At one point, Glenn emailed over a multi-page speech that was laced with questions and comments that Colton would prefer to read instead, thus prompting Stevenson's email requesting Colton stay with the one question.
[image via screengrab]
—
Follow Justin Baragona on Twitter: @justinbaragona
Have a tip we should know? tips@mediaite.com