CNN's Costello Pushes Pierson to Admit Staff Overhaul: 'Even Fox News Is Calling It a Shakeup!'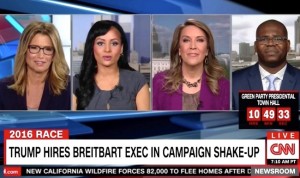 God bless Katrina Pierson.
As Trevor Noah highlighted on The Daily Show this week, the role of a Donald Trump surrogate might very well be the most difficult and insanely infuriating role in all of American politics right now. You're responsible for justifying all of the crazy that spews from your boss' mouth and argue, straight-faced, that the things going on in the campaign are totally normal.
For instance, completely restructuring your upper campaign management with less than three months until the general election.
This morning on CNN Newsroom with Carol Costello, Trump spokeswoman Katrina Pierson of course justified the decision to bring on Breitbart's Stephen K. Bannon to serve as campaign CEO and Kellyanne Conway to be campaign manager. But when Costello pressed Pierson about the moves, Pierson shifted the conversation onto, "Hillary Clinton's campaign infrastructure, particularly Huma Abedin and her dual role at the state department and the Clinton Foundation."
She was called out immediately. "OK, I know you want to deflect," said Costello, "and I appreciate that because it's your job."
COSTELLO: Donald Trump just shook up his campaign for the second time in a two-month period.

PIERSON: No he didn't! Donald Trump added people to his campaign.

COSTELLO: Oh come on, Katrina.

PIERSON: No one's out. When you shake up your campaign that usually means someone is out, Carol. This was announced as an expansion… but for some reason, only CNN is reporting that some sort of a shakeup is happening.
…
COSTELLO: Even Fox news is calling this a shakeup! Even Fox news is calling this a shake up.

PIERSON: [pause] But that's what I'm saying, it's not a shake up. It's simply an expansion.
Check out the above video from CNN and decide for yourself if Pierson's bob and weave is just political jabber 101 or if Trump's, uh, "expansion" indicates a healthy and thriving campaign.
—
[image via screengrab]
Have a tip we should know? tips@mediaite.com