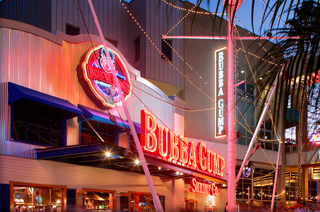 Now that a company like Hobby Lobby is allowed to deny its employees contraception coverage based on religious convictions, could there be a slippery slope effect that starts injecting religious convictions into other companies' practices?
That question seems to be what comedian Tim Heidecker, of Tim and Eric Awesome Show, Great Job! fame, was getting at on Wednesday morning when he tweeted the below challenge to his more than 400,000 followers.
can someone start a "boycott Bubba Gump Shrimp Co." petition? it's very existence goes against the word of God. make it real and good.

— timheidecker (@timheidecker) July 2, 2014
In short order, comedy writer Jesse Alkire turned Heidecker's joke into a reality with a Change.org petition that calls on the Bubba Gump Shrimp Co. to "Stop serving shellfish, be right unto God."
In a deliberately caps-lock filled message, Alkire quotes Leviticus 11:10 ("But anything in the seas or the rivers that has not fins and scales, of the swarming creatures in the waters and of the living creatures that are in the waters, is detestable to you.") and calls on believers to boycott the company "because we as CHRISTIANS will NEVER be forced to support something we don't believe in."
So far, the petition only has 48 supporters, but the message is clearly spreading.
As a side note, Laughspin, which first reported on the petition, noted on Twitter that the conservative website Rare is under the impression that Heidecker is a former editor-in-chief of Rolling Stone magazine, because that is what it says in the comedian's Twitter bio. However, that joke dates back to an elaborate con Heidecker enacted on his blog back in 2012.
Conservative news site @Rare believes @timheidecker is the former editor of @RollingStone pic.twitter.com/9gAPkpJjHP

— LaughSpin.com (@laughspincom) July 2, 2014
[Photo via Bubba Gump Shrimp Co.]
— —
>> Follow Matt Wilstein (@TheMattWilstein) on Twitter
Have a tip we should know? tips@mediaite.com