Concha: As Bleak Prospects Show, Democratic Race-Baiting Tactics Being Rejected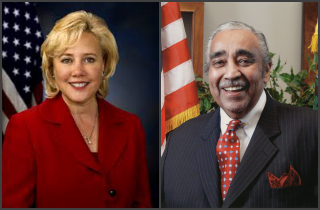 As you may have heard, we're now only four days away from the 2014 midterms and gubernatorial races mercifully coming to an end, save for a likely runoff in Louisiana. And as you've also heard lately, race–for all the wrong reasons–has become a central theme for the party in blue.
Speaking of the Bayou State, its likely-to-be-unemployed-after-said-runoff and current senator Mary Landrieu (D-LA) had this to say to Chuck Todd (a good get via hustle by the new MTP moderator, by the way) regarding the reason behind her not inviting President Obama for help on the campaign trail:
"The South has not always been the friendliest place for African-Americans. It's been a difficult time for the president to present himself in a very positive light as a leader."
So it isn't the President's toxic national approval rating (hovering at or slightly above 40 percent depending on poll) or the fact that Mr. Obama isn't being invited to campaign for any vulnerable senators up north or west or east either. Nope. Ms. Landrieu says it's about racism…the overriding subject for Democrats who don't seem to prefer to talk more about Obamacare or economic or foreign policy issues on the trail this year.
Exhibit A: Rep. Charlie Rangel (D-NY) on Thursday at a campaign event for Governor Andrew Cuomo, who will easily cruise to victory in deep blue New York and therefore isn't exactly in need for hysterical hyperbole:
"They don't disagree — they hate! They think if you didn't come from Europe 30 years ago, you didn't even make it. Some of them believe that slavery isn't over and they and think they won the Civil War!"
Can't blame the 84-year-old Rangel for thinking this way. He was likely following the lead of the current vice president, who once told an African-American audience during another campaign two years ago that the GOP will "put y'all back in chains" if they didn't vote Democratic.
Yup…the bigots are so desperate they don't even know how to properly race-bait anymore. Here's Alma Adams (D-NC) last Saturday at a campaign rally for Senator Kay Hagan in the Tar Heel State: "We need to send Uncle Tom — Tillis, that is — home." Thom Tillis is a white guy, but no matter.
So what does one member of left-leaning media think about these kind of tactics? Presenting Alex Wagner of MSNBC, she of a 41 in the demo in the latest ratings report…far and away the lowest number of any of the 27 programs on said report that includes late-night repeats:
"It shouldn't have to be the threat of undermining civil rights that gets people to vote, but if it does, so much stronger the party is for it."
Fortunately for those who aren't blind ideologues and actually can smell this kind of nonsense from a mile away, prospects for Democrats are looking very bleak come Tuesday night. Nate Silver–who suddenly has no idea what he's doing if you listen to the aforementioned blind ideologues–says via fivethirtyeight.com that Republicans have a 68.5 percent chance of winning back the Senate. The New York Times Upshot has it at 71 percent, while the Washington Post's Election Lab has it at 95 percent.
And this is with a mostly-clumsy GOP not exactly running exemplary campaigns in terms of message and execution. As Charles Krauthammer proclaimed on Fox earlier this week, "If the GOP can't win back the Senate in a climate like this, maybe the party ought to look for another country."
If that happens, perhaps Hillary Clinton — the most likely Democratic nominee — will take pause before playing the race card from the bottom of the deck against whomever her Republican opponent in 2016 is (if that person happens to be white). As we'll see Tuesday if the models above are any indication, it's thankfully becoming a losing strategy that neither party should consider playing (See: Graham, Lindsey, R-SC, stupid joke).
Most Americans–except for those trying to make a name for themselves in politics or as a provocative pundit–are tired of gutter rhetoric and everything being seen through the prism of race and gender.
Hopefully the upcoming election helps proves it.
— —
>> Follow Joe Concha on Twitter @JoeConchaTV
Have a tip we should know? tips@mediaite.com