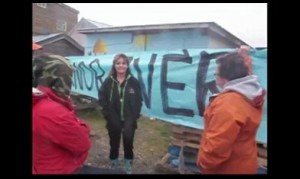 As loudly as they protested media coverage of Joe the Plumber (after John McCain mentioned him in a nationally televised debate 346 times), you might think the right would take a different tack with Sarah Palin protester Kathy Gustafson. You would be wrong. The electronic ink on the story is barely dry, and right-wing sites are googling their hearts out, getting it wrong, and injecting homophobia into the mix for good measure. Palin, meanwhile, explains why you didn't really see her roll her eyes in that video.
Conservative internet radio host MacRanger (who thinks "bling" means "vacation") posts a hilarious series of self-contradictory updates  chronicling his trip through the Google:
UPDATE VI: According to the Kenai Peninsula Borough School District website there is no Kathleen Gustafson registered as a teacher in the district which includes Homer.

UPDATE VII: Actually there is. A Kathleen Gustafson does appear on this PDFfrom the district. According to the document she's not a teacher but a "Theater Tech" at Homer High School. I wonder how the school district would feel about her misstating or more appropriately impersonating a teacher.

We'll find out.

UPDATE VII: A couple of points to clarify. It appears that Kathleen Gustafson is more than what the media – or she – tried to portray. Secondly a "Theater Tech" can very well be a teacher although many times – such in the case of one reader email – it's not.
This is exactly who should be criticizing the mainstream media. Update: No, it isn't. Update II: Yes, it is! Update III: It puts the lotion in the basket.
He goes on to theorize that this was a radio stunt gone wrong. Gustafson is listed among "familiar faces" on a tiny Alaskan public radio website, so this must be true. She just forgot to bring any radio equipment at all, but had the foresight to line up that sweet camera-phone-totin' bystander to capture the action. George Peppard would be proud of this plan.
Finally, he discovers that Gustafson is president of a family planning organization. Wow, you figured out, all by yourself, that her politics differ from Palin's? The 30-foot "Worst Governor Ever" banner didn't tip you off?
Gateway Pundit, meanwhile, is all hung up on what they say is Gustafson's membership in a "drag queen band." Except she clearly isn't. Even the caption in their own photo identifies Gustafson as the director of a local production of a play, "Hedvig and the Angry Inch." Still, we get the message, don't we?
As was the case with Joe the Plumber, however, Palin didn't know any of this when she approached Gustafson, or when she childishly played "Gotcha!" with her, or when her entourage bullied the man with the camera, and reportedly ripped the sign down.
Palin's trying hard to re-cast this as some kind of microcosmic Lincoln-Douglas for the YouTube age, but this video remains bad optics for Palin, who already has a reputation for being thin-skinned. Gustafson could be a gay, communist, arugula-farming atheist, and it wouldn't make Palin's performance any better.
This won't hurt Palin with her supporters, who would happily watch her skeet-shoot puppies, but I don't see it playing well with anyone else.


Update: A Kathleen Gustafson has been a certified teacher in Alaska since 1990. (h/t Michi)
Have a tip we should know? tips@mediaite.com