Conservatives Outraged Because Gabby Giffords Did Not Hand-Write Her Senate Testimony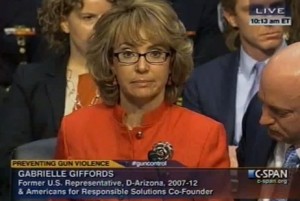 Agree with her or not, no thinking, feeling human being could have helped but be moved by former Congresswoman Gabby Giffords' brief, yet powerful, testimony before the Senate Judiciary Committee at Wednesday's hearing on gun violence. Many more were moved by the publication of the handwritten notes Gabby struggled to read from at that hearing. Then, there were the beings who compose the staff of Twitchy.com, the conservative website devoted to putting important events into proper perspective. They called out The Washington Post for committing the "gaffe" of a 100% accurate report, followed by a quick clarification: the notes of Giffords' testimony were handwritten, but by her speech therapist.
At Wednesday's hearing, Rep. Giffords struggled, courageously, to urge lawmakers to "Be bold, be courageous. Americans are counting on you," reading her statement from a handwritten sheet of paper:
Following her testimony, The Washington Post's Natalie Jennings posted a photograph of that handwritten page, with the headline "Gabrielle Giffords' Handwritten Testimony (Photo)," which was, and is, completely accurate. The photo is of Gabby Giffords' testimony, and it is handwritten: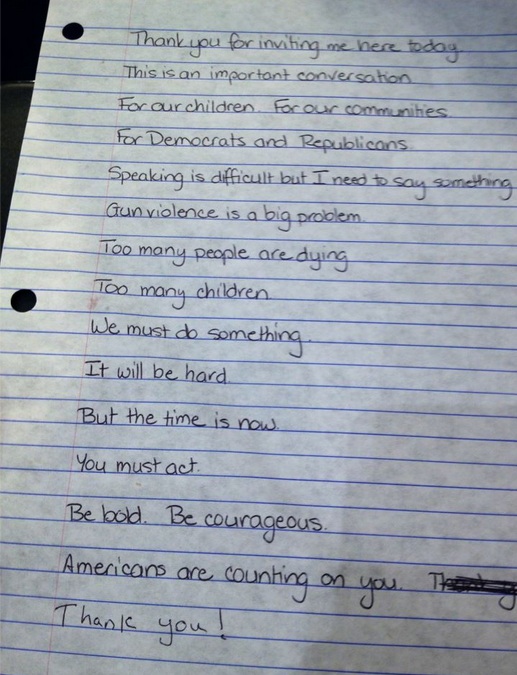 Within minutes, Jennings updated the post to note that the paper was actually hand-written by Giffords' speech therapist, and 17 minutes after it was posted, WaPo's Chris Cillizza tweeted the clarification. Natalie Jennings confirms, to Mediaite, that "The therapist wrote the note pictured in the photo, but Giffords was responsible for the contents of the statement."
The "problem" is that, during those intervening minutes, some people were deeply moved by the photo's apparent depiction of testimony written in Gabby Giffords' own hand. Or, as Twitchy puts it:
From the Washington Post to The Atlantic to Buzzfeed to to Think Progress to Business Insider to veteran journalist Christiane Amanpour, the touching photo of former Rep. Gabby Giffords's "handwritten testimony" in favor of stricter gun control spread across social media like wildfire.
Why is this a "problem?"
Yes, even real journalists make mistakes. Some matter more materially than others. This one was not insignificant given the widespread emotional reaction it provoked and the bearing that has on the public police and political debate.
They probably meant to say "public policy," and I'm not pointing out the typo just to be a jerk, but because it exactly matches a typo from this Michelle Malkin tweet:
The Giffords "handwritten" gaffe was a material error because of emotional bearing on public police and political debate.
Set aside the fact that the "Twitchy Team" apparently didn't even write all of its own post about how Gabby Giffords didn't write her own testimony (because she was shot in the head). Twitchy and Malkin seem to think that the knowledge that Gabby Giffords' testimony was physically put to paper by her speech therapist (again, because Gabby was shot in the head) somehow lessens the emotional impact, perhaps misunderstanding this because you must first have emotions in order to understand their impact.
Twitchy founder Michelle Malkin also crowed about "how mad libs get when you correct lib journo errors that have been spread far and wide on social media," and gushed about "why Twitter is valuable, conservatives. U can amplify/expose worst lib dbl standards & dishonesty in real time. Journos can't ignore," and maybe she has a kernel of a point, right? Even though it wasn't really an "error" at all, didn't Twitchy & co. hold the "lib media" accountable for several minutes worth of questionably relevant incomplete information?
Not exactly. That original post by Natalie Jennings relied on Gabby Giffords' own Americans For Responsible Solutions, which posted the photo to its Facebook page, along with this text:
"It will be hard. But the time is now. Be bold. Be courageous. Americans are counting on you" – Like and share Gabby Giffords' handwritten testimony at the Senate Judiciary Committee on gun violence. Join her and Mark Kelly by texting SOLUTIONS to 90975
Again, that's 100% accurate, but arguably incomplete, since it didn't note the fact that Gabby's injuries prevented her from physically penning the note.
You got her, Twitchy.
Have a tip we should know? tips@mediaite.com