David Frum Attacks WSJ'er Over 'Heckling' Incident: What If Someone Shouted 'Allah Is Great' During 9/11 Hearing?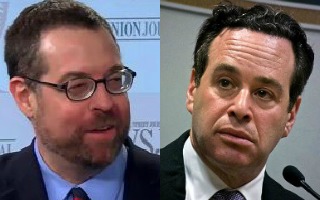 CNN contributor and columnist for The Daily Beast, David Frum, called out a Wall Street Journal columnist on Thursday amid their argument over the nature of the "heckling" incident in Newtown Connecticut – when a grieving father testifying about gun violence was supposedly heckled by pro-gun rights audience members. The facts of that incident are in dispute, and Frum does not defend the characterization of this incident in the media as "heckling." However, he noted an element of hypocrisy in the right's reaction to this episode. Frum asked hypothetically if conservatives' kneejerk reaction would have been less analytical if a protester had shouted "'Allah is great!' during a pause in the testimony of a 9/11 victim 30 days after that atrocity?"

RELATED: Did The Media Blatantly Mischaracterize Video Of Newtown Father Being 'Heckled' By 'Gun Nuts'?
This week, several media outlets expressed outrage over an incident in which the father of a child killed in Newtown, Connecticut, was supposedly heckled by gun rights advocates while he was delivering testimony about gun violence. This scene was revealed to be less straightforward than originally thought when a longer clip of the incident was unearthed which indicated that the "heckler" was one of several audience members responding to the father's rhetorical question – and then, only after a protracted silence.
Frum was quick to jump on the story as it was originally reported – that a heckler had rudely and insensitively interrupted a grieving father in order to advance his political agenda.
When the facts about the incident were revealed to be slightly less black and white, Frum backtracked and agreed that the clip of the incident – one he did not see until after the controversy erupted – was "too tightly edited."
However, he maintained that declassifying this incident as heckling "does not alter its wrongness." Frum went on to admonish the largely conservative members of the media who attacked the news outlets which mislead their viewers into thinking that gun rights advocates had deliberately harangued a grief-stricken dad at a forum that puts a premium on decorum:
And those in the wider public who use the new media of blogs and Twitter to condone and justify the people who shouted at Neil Heslin – those who'd represent the shouters as the true victims of the encounter – those who suggest that the most important part of the Newtown story is one more tedious replay of the debate over "media bias" – they do very nearly as wrong.
"This loving and bereft man deserves more and better from his fellow human creatures than he has received," Frum concluded.
The Wall Street Journal's James Taranto identified hypocrisy in Frum's position, and took to his corner of WSJ to hold The Daily Beast columnist to his own standards of journalistic ethics.
"The most insidious comment came from David Frum, who linked to the Twitchy account and remarked: "It wasn't heckling, you see, because grieving Newtown dad was 'asking for it.'" Those words are a literally accurate description of what happened," Taranto wrote.
Taranto accused Frum of "deception," and wrote that his post defending the media's outrage over this episode was a deliberate effort to "to make the truth look like a lie."
On Thursday, Frum responded to Taranto on his blog on The Daily Beast, attacking the WSJ columnist for being "the Journal's approximation of an in-house comedian." Frum wrote that Taranto is not defending the truth in this instance, but merely defending those with an ideology he sympathizes with.
Frum conceded in this post, and in his previous post on the subject, that "heckling" is not an accurate description of what occurred in Newtown. "Whatever the term they used, few who watched the video would dispute that the gun advocates behaved in a way that was both shocking and cruel," Frum wrote.
"[I]magine how he'd react to a protester who shouted "Allah is great!" during a pause in the testimony of a 9/11 victim 30 days after that atrocity," he asked hypothetically.
"He wants to make the jump straight to a whole other reality, a reality in which the person abused at that public meeting was not the bereft father, but rather the people yelling at him," Frum continued. He took serious issue with the suggestion that the so-called "hecklers" were the real victims in this episode – and their harassers were the journalist who leapt to conclusions.
That's an audacious move, and it's more audacious still to present this reversal of reality as a call for truth – and to denounce as "liars" those who won't submit to the reversal.
> >Follow Noah Rothman (@NoahCRothman) on Twitter
Have a tip we should know? tips@mediaite.com