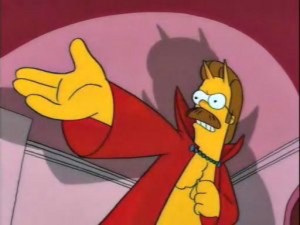 Satan is finally getting his due in Detroit thanks to Saturday night's unveiling of a much-maligned statue of Baphomet.
According to The Detroit News, the controversial sculpture of the goat-headed figure often associated with the Satanic Temple will be revealed at an undisclosed location in the greater Detroit area. The official online invitation promises "a night of chaos, noise, and debauchery at The Unveiling, a hedonistic celebration introducing the controversial Baphomet monument accompanied by provocative performances and installations":
Never before seen in public, The Satanic Temple Baphomet monument is already the most controversial and politically charged contemporary work of art in the world. Weighing one ton and towering at nearly nine feet tall, the bronze statue is not only an unparalleled artistic triumph, but stands as a testament to plurality and the power of collective action. The event will serve as a call-to-arms from which we'll kick off our largest fight to date in the name of individual rights to free exercise against self-serving theocrats.
This is the same statue that the group has tried to have placed near a completed Ten Commandments monument in Oklahoma City, Oklahoma, and another in Little Rock, Arkansas, where a similar monument is planned. When the Satanic Temple announced its plans to erect the statue in Oklahoma City, critics erupted, and some even said that the sculpture's proponents "should be shot."
Archdiocese of Detroit spokesperson Joe Kohn told the Detroit News "there are certainly concerned Catholics and concerned Christians in the city," but that "the Archdiocese is not organizing anything" in response.
Meanwhile, Satanic Temple Detroit chapter founder Jex Blackmore said the group simply wants to "encourage benevolence and empathy among all people, reject tyrannical authority, advocate practical common sense and justice, and be directed by the human conscience to undertake noble pursuits guided by the individual will."
The event is open only to prepaid ticket holders. Tickets for the statue's unveiling can still be purchased online.
[h/t The Detroit News]
[Image via screengrab]
— —
>> Follow Andrew Husband (@AndrewHusband) on Twitter
Have a tip we should know? [email protected]