Cop Caught Snoozing on Job Tells Man It's 'Now Illegal' to Film Officers in Public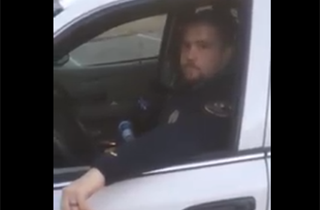 An Illinois police officer caught asleep by a passing student warned him that it was "now illegal to record a police officer in public" despite the fact that it's perfectly legal to do so in that state.
Matt Fedora, a student at Southern Illinois University, was surprised when he saw a cop sleeping in an Illinois church parking lot for three hours, and, in his own words, "pissed." His own house in the neighborhood had been burglarized, and two others had been robbed nearby, and he hoped that the unidentified officer would at least try to prevent such incidents.
But the conversation quickly went south, according to the blog Photograph Is Not a Crime:
"You've been here for the past three hours," Fedora said. "Don't lie to me, don't lie to me."
"I'm not lying to you," the cop said.
"If you keep lying, I'm going to post this on Youtube," Fedora said.
"Oh, so you're recording?"
"I am."
"Are you aware that it's now illegal to record a police officer in public?"
According to the State of Illinois, it is actually very much legal to record a police officer in public, though that fact has not been widely reported due to a recent law change that's suddenly made the entire issue rather convoluted and difficult to report.
Nevertheless, it's the duty of the officer to be aware of said laws, said Fedora. "Stuff like this really shouldn't be happening," he told a local TV station. "Especially when it's a block away from where there were three robberies."
Watch below:
[h/t Raw Story]
[Image via screenshot]
—
>> Follow Tina Nguyen (@Tina_Nguyen) on Twitter
Have a tip we should know? tips@mediaite.com