'Cringeworthy': Ana Navarro on News Secret Service Could Rent a Floor of Trump Tower At Taxpayer Expense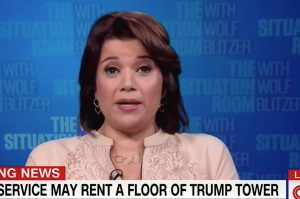 This afternoon has been all about CNN's report regarding President-elect Donald Trump and the Secret Service that will protect his wife and young son when they are in New York during his presidency. CNN says that the Secret Service is considering simply renting a floor of Trump Tower, which is where Melania and Barron Trump reside and plan to continue living, even when the President-elect heads to the White House.
CNN Money previously reported that protecting Trump while he is in New York costs the city $1 million per day. Simply renting space at the complex to protect Melania and Barron for that amount of money, then, seems reasonable. According to political commentator Ana Navarro, though, it isn't just reasonable, but ethical, too. She pointed out that the Secret Service rents a cottage in an area where Vice President Joe Biden resides, too.
When she mentioned that the real issue here for many voters is that taxpayers could foot the bill when Trump himself is alleged not to have paid taxes for years, however, she called it "cringeworthy."
Jeffrey Toobin called it a "non-issue" and "small potatoes" compared to the "other issues regarding [Trump's] businesses, where he is overseas, negotiating — his family is negotiating with foreign companies, foreign banks, foreign governments at the same time he's President of the United States."
Toobin also mentioned that Trump could simply give the space to the Secret Service rent-free if he felt like it.
[image: screengrab]
Have a tip we should know? tips@mediaite.com