Cruz Reveals How Stubborn Boehner Was During Government Shutdown: 'I Have No Interest in Talking to You'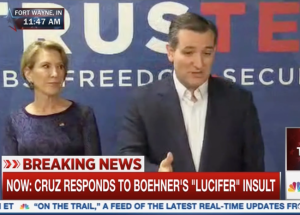 By now you're likely familiar with one of the largest charges that is frequently used against Texas Senator Ted Cruz: he was responsible for shutting down the government in 2013.
Whether or not that's exactly true is up for debate, but there has been no denying — most vociferously from the Senator himself — that the Cruz brand of politics has been to rattle the cage of the Republican way of process since day one ("I was stunned by the chicanery," of his party brethren, Cruz wrote in 2015's A Time for Truth). And on Thursday, Cruz told a story that he claims was, "not publicly known," about an exchange he had with the then-Speaker after the start of the shutdown.
"I've never worked with John Boehner. Truth of the matter is I don't know the man," Cruz began, perhaps to further the anti-Beltway rhetoric that he is likely to continue pushing here in the Carly Fiorina era of his campaign. Though, he claims that during the shutdown itself, it was Cruz who offered an olive branch of sorts to find common ground — and Boehner's harsh rebuke made any such compromise or understanding an impossibility.
Cruz said Thursday:
"This is something that's not publicly known. During the government shutdown I reached out to John Boehner and I offered for us to come over and work with the Speaker, can we resolve this and actually get something meaningful done to stop the disaster that is Obamacare? John Boehner's response was, 'I have no interest in talking to you. What possibly could be accomplished by having a conversation? No, I will not meet."
On Thursday morning, John Boehner declared that the Texas Senator was, "Lucifer in the flesh," setting off a new war of words between the two prominent Republicans. Cruz's tactic has been to tie Boehner personally to his "texting and golfing buddy" Donald Trump in a maneuver to deflect the brutally honest headline-salivating quotes from the former House Speaker.
Watch Cruz recount the story of his 2013 shutdown conversation with John Boehner, via MSNBC.
—
J.D. Durkin (@jiveDurkey) is an editorial producer and columnist for Mediaite.
[image via screengrab]
Have a tip we should know? tips@mediaite.com