Dallas Morning News Calls Out Wendy Davis for 'Blurring' Facts About Personal Life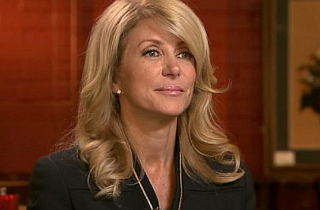 As pro-choice icon State Sen. Wendy Davis continues her run for Governor of Texas, it's only natural that the image she's constructed for herself comes under public scrutiny. On Sunday afternoon, The Dallas Morning News's senior political writer called out the Democratic lawmaker for "blurring" key details of her personal biography as she attempts to lure voters into her camp.
"Wendy Davis has made her personal story of struggle and success a centerpiece of her campaign to become the first Democrat elected governor of Texas in almost a quarter-century," Morning News political writer Wayne Slater noted. "[I]t is her biography — a divorced teenage mother living in a trailer who earned her way to Harvard and political achievement — that her team is using to attract voters and boost fundraising."
While declaring the "basic elements" of her story "true," Slater asserted that "some facts have been blurred." For instance, he wrote, "Davis was 21, not 19, when she was divorced. She lived only a few months in the family mobile home while separated from her husband before moving into an apartment with her daughter."
Interestingly, BuzzFeed has noted that Davis even testified under oath that she was 19 at the time of the divorce.
The story continued:
A single mother working two jobs, she met Jeff Davis, a lawyer 13 years older than her, married him and had a second daughter. He paid for her last two years at Texas Christian University and her time at Harvard Law School, and kept their two daughters while she was in Boston. When they divorced in 2005, he was granted parental custody, and the girls stayed with him. Wendy Davis was directed to pay child support.

In an extensive interview last week, Davis acknowledged some chronological errors and incomplete details in what she and her aides have said about her life.

"My language should be tighter," she said. "I'm learning about using broader, looser language. I need to be more focused on the detail."
Slater explored some of Davis's more complicated details, including the fact that she left her second husband the day after he completed the final payment on her student loans:
When she was accepted to Harvard Law School, Jeff Davis cashed in his 401(k) account and eventually took out a loan to pay for her final year there. […] Over time, the Davises' marriage was strained. In November 2003, Wendy Davis moved out.

Jeff Davis said that was right around the time the final payment on their Harvard Law School loan was due. "It was ironic," he said. "I made the last payment, and it was the next day she left."
As Slater pointed out, however, Davis's campaign has told a significantly simpler story: "With the help of academic scholarships and student loans, Wendy not only became the first person in her family to earn a bachelor's degree but graduated first in her class and was accepted to Harvard Law School," her website says.
Slater quotes Davis as defending her decision to not disclose certain elements of her private life. "When I decided to run for governor, I promised my girls we would not revisit a time that was terribly difficult for them," she said. "I very willingly, as part of my divorce settlement, paid child support. That was at my request, not any court telling me I needed to financially support my daughters."
She added: "I was a vibrant part of contributing to our family finances from the time I graduated to the time we separated in 2003. The idea that suddenly there was this instantaneous departure after Jeff had partnered so beautifully with me in putting me through school is just absurd."
Read the full piece here.
[Image via screengrab/ABC]
[Note: This piece has been updated with additional excerpts from Slater's article.]
— —
>> Follow Andrew Kirell (@AndrewKirell) on Twitter
Have a tip we should know? tips@mediaite.com