Photos: Hoboken Mayor Zimmer and NJ Lt. Gov. Guadagno at the Scene of Alleged Extortion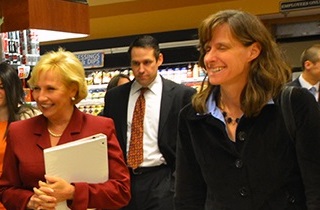 This weekend, Hoboken Mayor Dawn Zimmer(D-NJ) dropped the blockbuster allegation that New Jersey Lt. Governor Kim Guadagno, in a private conversation during a visit to a Hoboken ShopRite store, explicitly tied her city's Hurricane Sandy relief requests to a real estate development deal. Lt. Gov. Guadagno strongly denied the allegations Monday morning, and at the time, touted the visit on the State of New Jersey's website.
On Saturday, Mayor Zimmer told MSNBC's Steve Kornacki that the Christie administration had been pushing hard for a development project that Mayor Zimmer and the Hoboken planning board had slowed down, and after almost all of the city's Hurricane Sandy relief requests were denied, Lt. Gov. Kim Guadagno told Mayor Zimmer that in order to get the Sandy relief funds flowing, she needed to move the development project along.
According to an entry in Zimmer's personal diary, Guadagno pulled her aside after a political event in Hoboken, "and says I need to move ahead with the Rockefeller project. The word is you're against it and you need to move it forward or we're not going to be able to help you. I know it's not right. These things should not be connected but they are. If you tell anyone I said that, I will deny it."
That event was a visit to the Hoboken ShopRite store owned by Lawrence Inserra. Aside from her word, and the status of her Sandy aid requests, Mayor Zimmer's claim rests heavily on those diary entries she made at the time. Here are some photos of Mayor Zimmer and Lt. Governor Guadagno at the event where Zimmer says she was extorted:
[imageviewer id=1791]


source: Official State of New Jersey Photo
Have a tip we should know? tips@mediaite.com