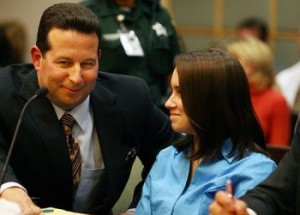 Casey Anthony's trial is closed, and the American public has largely moved on to fixate on other sensational stories. So what's a defense attorney to do? Write a book, of course. In Presumed Guilty – Casey Anthony: The Inside Story, defense attorney Jose Baez takes a hit at everyone: the media, the police and the prosecution.
Baez makes the case for Anthony's innocence, introducing "bits of evidence not introduced at trial – including rips in the shorts Caylee was buried in, and phone records that he says correspond with Casey's version of what happened the day Caylee died."
"This was not real life," he writes, "it was the media's Casey Anthony reality show, a show that depended on name-calling and controversy for television ratings."
But why was that the case. Baez told Crimesider, "I think Casey Anthony's story, the whole case, was a media phenomenon. And I say that because she was young, pretty and white. If it didn't have those elements to it I don't think it would have taken off."
Baez further shared pieces of evidence he thought were important but were not revealed during the trial:
I think there were several pieces. One is the phone records that showed that she hadn't left the area of the home until 4:16 p.m. [on June 16, 2008 – the last day anyone saw Caylee alive, and the day Baez believes the little girl drowned in the pool] and that she headed directly towards Tony Lazzaro's house, contrary to her leaving at 12:50 [as her father had said she did] and then going somewhere else.

And Dr. Henry Lee [a forensic scientist] found actual rips on [Caylee's] clothing that showed that perhaps these shorts didn't fit her. The testimony that we were able to get out of trial was that she hadn't worn those shorts in almost a year because she had outgrown them. And so whoever put those clothes on her was not familiar with dressing her. As a mother you know what fits your child and what doesn't fit your child.
Additionally, he noted that the case should have been decided on evidence, and the prosecution, according to him, simply didn't deliver evidence.
(H/T CBS News)
Have a tip we should know? tips@mediaite.com