Delaware Taxi Owners Unsure There Are Any Somali Cab Drivers for Biden to Know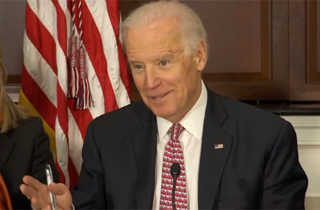 On Tuesday, the vice president made one of his classic Biden Gaffes, this one involving his supposed friendship with Somali cab drivers. CNN fact-checked his claim thoroughly.
The gaffe made its appearance during a White House summit on violent extremism, shortly after he made a physical gaffe involving some careless whispers, in which Biden addressed the Somali-American community. He knew their struggles, he said, because there is also a "very identifiable Somali community" in his hometown of Wilmington, Del.
"I might add if you come to the train station with me you'll notice I have great relationships with them because there's an awful lot driving cabs and are friends of mine," Biden said. "For real. I'm not being solicitous. I'm being serious."
And so, the fact-checking reporter monsters at CNN actually asked people in Delaware whether Somali cabdrivers were a thing:
Some Delaware cab company owners disputed Biden's comment about Somali drivers.

"I don't think I've seen any in Delaware," said Anthony Eber, the owner of the six-cab Family Taxi and an immigrant from Sierra Leone. "I see some Guinean [drivers], but no Somali drivers."

Still, other cab drivers in Wilmington said they've seen him — though not as much since he's become vice president — and they like him.

"He's a nice guy. He's a very good man," said George Daniels, a Liberian immigrant and the driver and owner of his own company, Kitco Taxi, who said he's driven Biden before.
While 58% of Wilmington's population — 70,851 at the last census count — is indeed African-American, it is unclear as to how many of them are Somali. In contrast, roughly 25,000 Somalis live in Minnesota, with the rest living in states that are generally not Delaware.
We cannot believe we just spent 20 minutes looking up demographic information about the Somali-American community, but we are all the wiser for it. Thank you, Joe Biden, for enlightening us with your loose cannon; and thank you, CNN, for being so irritatingly thorough about everything you do.
[CNN]
[Image via screenshot]
—
>> Follow Tina Nguyen (@Tina_Nguyen) on Twitter
Have a tip we should know? tips@mediaite.com