Dem Congressman Deletes Tweet Telling Cyndi Lauper She's 'Hot,' Will Hold Bizarre Presser On The Matter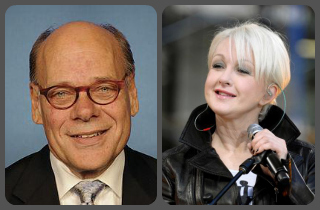 Late Thursday evening, Congressmen Steve Cohen (D-TN) tried to send a flirtatious tweet to pop legend Cyndi Lauper, praising her "Night of Memphis Soul" performance at the White House and telling her how "hot" she looked.
The tweet was quickly deleted, but Politiwoops scooped it up and saved the loving tweet for posterity.
"Great night," he told Lauper. "Couldn't believe how hot u were," the tweet continued, ending with a reference to the Otis Redding song Lauper performed during the concert: "Try A Little Tenderness."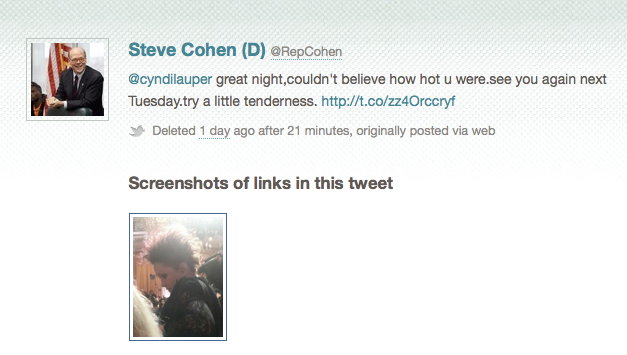 In addition to his tweet-flirt, Cohen took time on the House floor Thursday afternoon to heap praise upon the "Girls Just Want to Have Fun" singer: "While there were a lot of great performers there, I want to put a particular shout out to Miss Cyndi Lauper. She's special," he said.
Seeing as how Cohen is well-known for his love-tweeting, this seems like a pretty big non-troversy… except, somehow, bizarrely, the congressman will now hold a press conference to explain away the story to all five people who think his Lauper praise was inappropriate? It's not clear what he would need to explain, but hey, why not. It's a rainy Friday in D.C.
The conference will be held at 1 p.m. ET and we'll try our best to bring it to you, because… hey… why not?
UPDATE: NBC's Luke Russert has found out from the congressman that he was "punking" the press corps to show how easily they fall for salacious stories.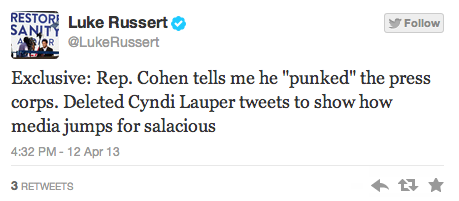 Ultimately, it seems, Cohen was seeking to promote Memphis music: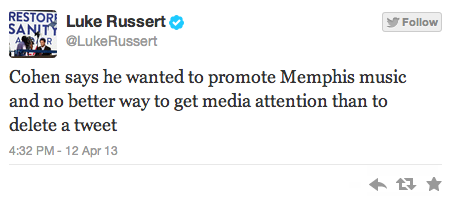 P.S. – While we're on the subject of "Try A Little Tenderness," you need to watch Redding's 1967 European performance of the song. It might be one of the greatest performances of all time — with at least four encores and a frenetic energy unseen in most modern acts. Hang onto your hats:
— —
>> Follow Andrew Kirell (@AndrewKirell) on Twitter
Have a tip we should know? tips@mediaite.com