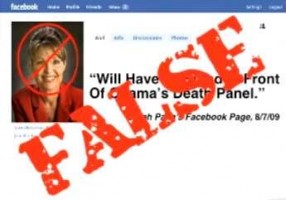 Democrats are launching a new website and online video campaign aimed at Sarah Palin's "lies" about health care reform, encouraging the use of Facebook as a primary battleground.
The seemingly low budget video (embedded below) centers around President Obama's claim that, "If you misrepresent what's in our plan, we'll call you out!" and includes screenshots of the former Alaska governor's Facebook page featuring the infamous "death panel" claims, in addition to other Palin-centric fact-checking.
"Quit makin' things up!" the spot's voiceover insists.
Politico's Ben Smith has the text of an email sent by DNC executive director Jen O'Malley Dillon in which she urges the use of social networks for a political battle:
A lot of folks use Facebook to stay in touch with friends and family. For Sarah Palin, it's a great way to spread lies about health insurance reform.

A few months back, Palin took to Facebook to declare that health reform would create "death panels," and drive private insurers out of business — and nonpartisan factcheck sites and the independent Congressional Budget Office debunked those lies.

But that didn't stop Sarah Palin. She's back with a new Facebook note claiming that reform will raise costs on families and drive up deficits. Unfortunately for her, even the conservative "Tax Foundation" says those claims are false.

So, this week, we're calling out Sarah Palin and taking to Facebook to debunk her lies on the very same pages she's using to spread them.
Check out the rest here and watch the video below.

Have a tip we should know? tips@mediaite.com