Despite Election Being 'Fact-Free Zone,' CNN's Alisyn Camerota Is Optimistic It Was a 'Wake-Up Call'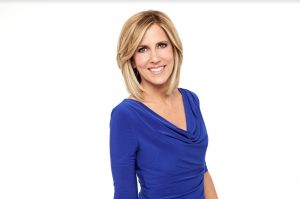 If you want to know about the future of the press under President Donald Trump, you should ask someone with a unique vantage point within that press. CNN's Alisyn Camerota fits the bill very well: After more than a decade at Fox News, she moved to CNN, where she now co-hosts New Day with Chris Cuomo. What insights could be gleaned from someone who worked within the network so often criticized for being the right wing's media arm and then defected to the network that has been under nonstop attack from Trump and his fans? We wanted to know, so we just asked her.
Camerota comes off as a composed, intelligent professional, but who is still somehow warm. She was happy to chat about all elements of the media, from bias within organizations and outside of them to the people who are most underserved by coast-based reporting. We spoke right after she wrapped New Day, but she was still more upbeat than you'd expect someone who completed a full day's shift by 9:00 a.m. to be.
Perhaps her ability to talk to anyone regardless of the circumstances is what makes her such a versatile reporter. How versatile is she? Well, she did  say she derives "a perverse pleasure from people being confused" by whether she can be classified as a "conservative" Fox reporter or "liberal" CNN anchor. More on that later.
She also mentioned with pride that throughout the election season, she was one of the reporters doing the most interviews and panels with Trump supporters. She traveled to New Hampshire, to Iowa, to Nevada, and all over the country. In fact, this morning, a few days after we spoke, she sat down with his voters. In a clip that is on the brink of of going viral, a female Trump supporter insisted that CNN itself had reported that millions of people had voted illegally. Camerota immediately countered that was not true, but as you'll soon learn, combatting untruths on-air — to varying degrees of success — has become somewhat of a theme for her and journalists at large.
"I wanted to know them," she explained of her panels, "and understand them to see what they thought of whatever headlines Trump was making."
Her dedication to learning what viewers and voters who live between the coasts were thinking was matched by her organization, which dispatched correspondents to fly-over states with some regularity, but not by the media on the whole, which is something that she believes needs major post-election attention. Given how surprised nearly every single media personality was when the polls in Hillary Clinton's favor were incrementally torn apart as state after state went red on November 8, she has a point.
She mused, "Is it time to open a Youngstown, Ohio bureau? That is the message [sent by Trump's dominance in the Rust Belt], right? We didn't have our finger on the pulse. We tried, but it's hard when you don't live in Youngstown, Ohio … I think maybe we do need to be scattered for real, not just pop in and pop out."
Still, she doesn't think the media is necessarily biased against Trump or Republicans in general. Instead, she said that while the media undoubtedly leans left, it's only because the goals of journalism — namely, to be extremely transparent and fact-based — align with a lot of liberal thinking. She said that she is proud of the reporting CNN did and wouldn't change any of it, saying she has a clear conscience and doesn't believe that the network was unfair to the President-elect or his surrogates at all.
To that end, she even pointed out that bias can come from anywhere. For instance, while at Fox News, she knew with certainty that if she asked certain questions of guests, she'd get in trouble with Roger Ailes. She asked them anyway.
"I have never had that experience once since I came here," she said of CNN. "It took me a while to get comfortable and understand that I was't going to get in trouble for asking certain things or pursuing certain lines of questioning."
That response belies what seems to lie at the heart of Camerota's career: She's not interested in the internal politics of a network; she wants to ask tough questions, find the truth, and relay it to consumers.
She explained, "I often fear that places like Fox and MSNBC have trained viewers to think that you have to — if you're a newscaster — make a choice. I don't think you have to make a choice. I think you can do fine journalism at Fox, you can do fine journalism at MSNBC, you can do fine journalism on the local news."
Camerota expressed with some frustration that all she wants is for spokespeople and politicians to come on the air and tell the truth. When they don't, she's forced to fact-check in real time like she did this morning, which she highlights as the most challenging part of her job. After all, no one can know every single statistic and transcript on command and every anchor runs the risk of infuriating part of their audience by interrupting someone to point out a fact. She called weighing all of that the "dance" she does every time she internally debates whether she should interrupt a guest and correct them.
Still, it has to be done. This example she gave illustrates everything that was wrong with this election season and how she felt it needed to be handled:
There are some times that it's obvious [someone has lied] and one of those was when Newt Gingrich said people are upset because, you know, so much of the country is dangerous and crime is so far up. I didn't know that he would go in that direction. I didn't have the FBI statistics, but I knew crime was down; I knew that cold. I told him he couldn't say that. He finally worked his way around, saying people feel that crime is up and I said, "But that's not true!" and he said "I'll go with feelings over facts any day." That crystalized to me the "fact-free zone" that was this election. There were many politicians who were going with their feelings and their gut and there were others we tried to force to go with facts.
Watch that here:
In spite of the rampant misinformation and lies, how wrong the polls and media got the election, she hasn't been dismayed. If anything, she's been reinvigorated by the missteps and criticisms, calling Trump's election a "wake-up call."
She did say she has major concerns about Trump ditching his press pool or not allowing them into events altogether. Still, she believes the news media's job "has gotten so much more critical and vital." and she feels "the weight of that already," so the current anti-media climate in the country is acting as "a refresher course" that can only raise the bar for journalists under Trump.
"[Access] is something we've taken for granted and it's been a luxury to take it for granted. How wonderful that for decades we could take it for granted. That shows what stability we've had and how strong the democracy is," she said before going on to underscore how somber the future of journalism is going to be. "Getting the story, getting the truth is so important. You do a few pet segments, you do a few 'how to cook the best turkey' segments, a few fall fashion segments, and you can forget what journalism is really about, so yes, I think this has been a wakeup call."
Camerota will need to keep that optimism heading into the next four years. Luckily, it looks like she plans to.
[image: CNN]
This is an opinion piece. The views expressed in this article are those of just the author.