Despite NFL's PR Nightmares, Super Bowl XLIX Breaks 33-Year-Old Ratings Record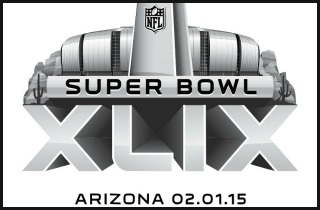 Two weeks of controversy leading up to kickoff. A defending champ vs. the greatest team of the 21st Century. The league's best offense vs. the league's best defense. A defensive struggle to start. A tie game at halftime. Katy Perry bringing obvious lip-syncing to the whole new level. Said defending champ going up 10 points in the 4th. A thrilling comeback. An impossible catch. And the worst call in Super Bowl history to end the game.
Add it all up, according to Nielsen, and you have the highest-rated Super Bowl ever. Total audience numbers will be out this afternoon, but the rating–a record that has stood since the 1982 Super Bowl (Niners-Bengals)–of 49.7 for NBC is likely even exceeding already-lofty expectations going into the game by the league. Remember, the '82 Super Bowl was during a time when cable TV was in its infancy and the Internet non-existent. Competition came in the form of a handful of other stations on the dial. For this Super Bowl–featuring the 7th and 14th largest markets in the country, mind you–to overcome hundreds of programming options and said Internet is simply astounding for a sport that can do no wrong right now.
Think back to where we were in September, especially in the world of cable news discussion and debate. Roger Goodell–he of a $44 million salary this year alone–was a goner for his mishandling of the Ray Rice situation. Adrian Peterson and Greg Hardy's stories soon followed. Reports of more parents preventing their children from playing the sport at all were popping up everywhere. The NFL was supposedly at a tipping point, on a downturn, as more people became disgusted by its executives and player behavior.
My argument at the time–as someone who watches every Sunday and oftentimes at local sports bars (I'm the guy wearing a different jersey every week…never underestimate the deals one can get for used jerseys on eBay)–was that interest in the sport hadn't changed and was even growing. Fantasy football is an absolute juggernaut, with over 30 million Americans glued to games (like Tennessee at Jacksonville) they otherwise would have zero interest in. But women were getting turned off by all reports of players and domestic assault, right? Guess again.
8.3 million women now play fantasy as well. Ratings from the past season show increases of both men and women watching the game overall. We may not like some of the players under the helmets and what they do off the field, but on Thursdays, Sundays and Mondays…we're selfish. We don't really care about a particular player's integrity or honor…we just want our fix. You think the Ravens suffered at the gate or on the field as a result of rightly dismissing Rice from the team? The team nearly beat the Pats three weeks ago in New England while selling every game out along the way. Oh, Johnny Manziel just entered rehab? The Heisman Trophy winner who was supposed to be the next big thing? He–like everyone else–is ultimately expendable and easily replaced.
All of this doesn't justify Goodell's poor handling of Rice or even his foot-dragging on DeflateGate to avoid possibly having to suspend a Brady or Belichick for the big game. Know this: As long as the NFL is pulling in nearly a 50 rating for the Super Bowl and the gaudy numbers it does in the regular season and playoffs in general despite all the PR nightmares this season, the owners will never fire him. Why would they? Goodell grows the business by $1 billion annually. The next negotiation for TV rights is going to be comical when watching CBS, NBC, Fox and ESPN bid against themselves and adding billions more to the league's coffers in the process.
Pats-Seahawks was a game for the ages. It had just about everything. Drama. Dumb calls. Tom Brady cementing his legacy as the greatest quarterback ever. Half of America's television were tuned in. Records were broken.
Not bad for a league that was supposedly in so much trouble just four months ago.
— —
>> Follow Joe Concha on Twitter @JoeConchaTV
Have a tip we should know? tips@mediaite.com