Despite Secretary of State Rejection, Romney Says He's Optimistic Trump Will Be 'Open…to Critics'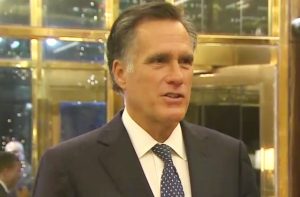 Despite being left at the altar by President-elect Donald Trump on the Secretary of State job, Mitt Romney is still expressing optimism over the Trump Presidency.
Romney wrote a letter to the editor of the Salt Lake Tribune in which he said that the fact that a fierce critic like him was even considered for the post was a positive indicator that Trump "will be open…to critics" throughout his time in the White House.
"I was more than a little surprised that the President-elect reached out to me to potentially serve as secretary of state of the United States," Romney wrote. "I see it as a welcome sign that he will be open to alternative views and even to critics."
The 2012 republican Presidential nominee indicated that he was bound by a sense of duty to the country to speak with the President-elect about joining his Cabinet.
"I was indeed very critical of Donald Trump during his campaign," Romney said. "But now he has been elected president and accordingly, if I could have helped shape foreign policy to protect the country I love, I would have been more than willing to do so."
Romney wrote his letter in response to a Salt Lake Tribune editorial which sharply criticized him for softening or reversing many of his criticisms about Trump in order to potentially be tapped as Secretary of State.
"The best case for Romney would have been remaining consistent to his anti-Trump screed and eventually acting as a check on the new president's hubris," the editorial said. "That opportunity has now given way to a sold soul and a lesson for the history books worthy of Shakespeare."
[image via screengrab]
–
Follow Joe DePaolo (@joe_depaolo) on Twitter
Have a tip we should know? tips@mediaite.com
Joe DePaolo - Senior Editor