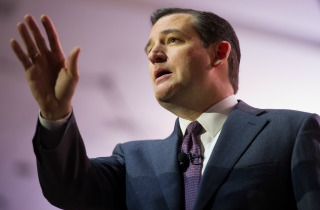 As 2016 campaigning starts heating up from tepid to lukewarm, campaign finances are already being scrutinized, and there's already been an issue: USA Today found multiple instances where Sen. Ted Cruz (R-TX) used taxpayer money to pay for fundraising trips.
Senate ethics rules dictate that taxpayer money can only be spent on official Congressional purposes, and "No official resources may be used to conduct campaign activities". (Basically, think Aaron Schock, but with far less flagrant non-official spending.) And according to USA Today's report, Cruz was guilty of spending taxpayer money on fundraising trips while doing varying amounts of "official", Senate-related business.
For instance, he and his political advisors billed Congress for various trips around the country — speaking at the Western Conservative Summit in Denver and the David Horowitz Freedom Center in Palm Beach in 2013, and receiving an award at a fundraising dinner in 2014 — during which he asked audience members to sign petitions and send texts to websites run by his PAC, which, if you ask us, is a pretty good way to collect people's information for, say, a potential Presidential run. Both of those trips were paid for with taxpayer money, though Cruz did pay a portion of the Palm Beach expenses with his PAC account.
USA Today also highlighted a New York City trip shortly after his first major filibuster, in which Cruz attended fundraising events and visited Donald Trump, a visit not highlighted in his official schedule, and billed Congres "more than $1,200". While Cruz's office said that there was official business on the trip — he did an in-studio appearance at Fox News's Happening Now — the paper noted that Cruz had already done several Fox appearances out of Washington, D.C. days before. (The office said that Cruz paid non-official expenses out of pocket.)
But whereas it was fairly clear that Schock was overbilling Congress, Cruz seems to occupy a gray zone with these speeches, thanks to some clever interpretation of ethics rules:
Under Senate rules, "it is very easy to classify something that is a political event in front of political supporters as not being a campaign event and being part of your official duties," said Bill Allison, senior fellow at the Sunlight Foundation, a non-profit that advocates government transparency. "As long as they never use the magic words, 'Will you vote for me?' "

Any trip that is paid for with public money should have "some kind of official public component," said Sheila Krumholz, executive director of the watchdog Center for Responsive Politics. This would be particularly relevant for Cruz, Krumholz said, because he has "inveighed against wasteful government spending."
[USA Today]
[Image via Shutterstock]
—
>> Follow Tina Nguyen (@Tina_Nguyen) on Twitter
Have a tip we should know? tips@mediaite.com