Did Kellyanne Conway Just Let Slip That Donald Trump Regularly Calls MSNBC's Mika Brzezinski?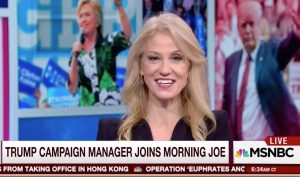 It's all hands on deck for the campaign surrogates, spokespeople, and campaign managers in the final hours before polls officially open in all fifty states. To further the case that her boss is the right fit for the Presidency, Donald Trump's campaign manager Kellyanne Conway visited MSNBC's Morning Joe to discuss the state of the race in the final crucial day.
But in the process of a joking exchange with the BBC's Katty Kay, Conway may have accidentally implicated Morning Joe cohost Mike Brzezinski as having the cozy relationship with the GOP nominee she's been accused of in the past.
Kay asked about Trump's temperament when it concerns Tweetstorms and his penchant for reaching for his phone to fire off insulting messages. Conway responded, "He has his phone — call him right now! Here. He's probably watching and he'll call me as I exit the stage."
"It's a mystery to all of us when this man sleeps. I'm sure he's watching right now so he'll probably call Mika or me afterwards," she continued with a laugh before continuing her argument.
This wouldn't be the first time that evidence has surfaced indicating that Trump and the Morning Joe cohosts speak over the phone frequently. In March, hackers posted voicemails that appear to come from Tamron Hall, Mika Brzezinski, and Joe Scarborough all left for Trump. Scarborough clarified after the leak, "[F]or the record, we knew Trump as a fellow NBC employee. We always asked colleagues for charitable gifts," he said regarding the purpose of the call. In the fall, CNN's Dylan Byers reported that the morning show duo visited Trump Tower in the hopes of "rekindl[ing] a once-rosy relationship."
In February, Trump said at the conclusion of a Morning Joe interview, "It was great seeing you, you guys have been supporters and I appreciate it."
Watch above via MSNBC.
—
[image via screengrab]
Have a tip we should know? tips@mediaite.com