Don Lemon: Trump Called Post-Lewinsky Clinton Impeachment Efforts 'Nonsense'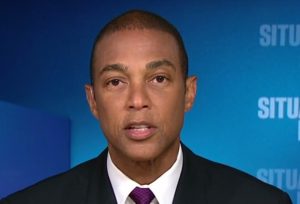 Don Lemon gave some remarks on the Tom Joyner Morning Show today and they were pretty illuminating. He discussed the debate between Donald Trump and Hillary Clinton that took place three days ago and then looked at what their best strategies for the future are.
As far as Trump's ominous promises that discussions of Bill Clinton's infidelity could be forthcoming, Lemon was pretty clear when he said pursuing that wouldn't go well for the GOP candidate.
He played a clip of Trump talking to Wolf Blitzer in 2008. Here's what Trump said:
Look at the trouble Bill Clinton got into over something totally unimportant and they tried to impeach him which was nonsense.  And yet [George W. Bush] got us into this horrible war with lies by lying, by saying they had weapons of mass destruction, by saying all sorts of things that turned out not to be true.
That double whammy of Clinton support and Bush degradation is just one of the reason Republican strategists are cautioning Trump from bringing up infidelity at all. One of the other reasons, as Lemon pointed out, is that Trump himself has been known to cheat on his wives.
Lemon also read a list of counterpoints the Trump campaign has been working on since Clinton hit him by bringing up his unkind treatment of former Miss Universe Alicia Machado. One of the suggested attacks for Trump is that he question where Monica Lewinsky has been throughout this campaign and why she has been so quiet in spite of having started a foundation to combat bullying after she was lambasted so thoroughly for being "the other woman" in the Clintons' marriage.
That's a good question. Where is Monica Lewinsky?
Listen to Lemon (with bonus vintage Trump) above.
[image via screengrab]
Have a tip we should know? tips@mediaite.com