Donald Trump Accuses Jeb Bush of Planting a Feminist at a New Hampshire Conference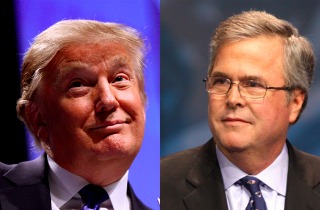 Following a fiery exchange with a woman at a campaign event Monday, Donald Trump took to Twitter to accuse Jeb Bush of planting an intern at the No Labels conference in New Hampshire.
According to her LinkedIn profile, the woman in question — Lauren Batchelder — is a campaign intern at Jeb Bush for President 2016, and a former intern for New Hampshire Senator Kelly Ayotte. Conservative bloggers culled images of Batchelder at various Bush campaign events, as well as since-deleted tweets where she appears to support Bush's candidacy.
In reponse to Trump's accusations, Bush's communications director Tim Miller tweeted:
For what its worth, Lauren is not a Jeb staffer but the Jeb staff is amused by how sensitive Donald is to being challenged by women.

— Tim Miller (@Timodc) October 13, 2015
According to the Washington Post, a spokeswoman for the Bush campaign confirmed that Batchelder is not a paid staff member, and insisted that her question was not sanctioned by the Bush campaign.
Despite reports that Batchelder is not, in fact, a paid staffer, Trump continues to attack the Bush campaign for planting the young woman at the conference.
The arrogant young woman who questioned me in such a nasty fashion at No Labels yesterday was a Jeb staffer! HOW CAN HE BEAT RUSSIA & CHINA?

— Donald J. Trump (@realDonaldTrump) October 13, 2015
How can Jeb Bush expect to deal with China, Russia + Iran if he gets caught doing a "plant" during my speech yesterday in NH?

— Donald J. Trump (@realDonaldTrump) October 13, 2015
[image via Wikipedia Commons]
Have a tip we should know? tips@mediaite.com