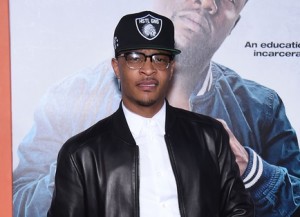 Atlanta-born rapper T.I. told a radio show interviewer that he wasn't going to vote for Hillary Clinton or any other female presidential candidate because the "world ain't ready" for the supposed mess such a situation entails. He then promptly backtracked on Twitter, noting that his remarks were "unequivocally insensitive and wrong."
According to The Hill, T.I. told The Whoolywood Shuffle host DJ Whoo Kid that he "can't vote for the leader of the free world to be a woman." Why?
"Just because every other position that exists, I think a woman could do well," he explained. "But the president, it's kind of like, I just know that women make rash decisions emotionally — they make very permanent, cemented decisions — and then later, it's kind of like it didn't happen or they didn't mean for it to happen."
Oh please, go on Mr. T.I.! Why else can a person with lady parts not be the elected leader of the free world?
"I sure would hate [for her] to just set off a nuke… The world ain't ready yet," said T.I. "I think you might be able to get the Loch Ness Monster elected before you could [a woman]. It's not right, but I'm just saying I don't think."
He went on to decry Republican presidential candidate Donald Trump's "racist remarks" and "off-color statements," but he didn't find himself apologizing for that on Twitter Tuesday afternoon.
My comments about women running for president were unequivocally insensitive and wrong. I sincerely apologize to everyone I offended.

— T.I. (@Tip) October 13, 2015
I wonder what his next rap session with Larry King will look like in light of his comments and subsequent apology.
[Image via Shutterstock.com]
— —
>> Follow Andrew Husband (@AndrewHusband) on Twitter
Have a tip we should know? tips@mediaite.com