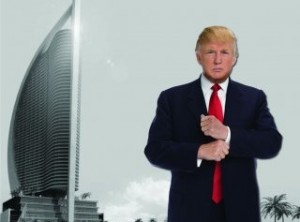 The past few months have provided a little bit of everything in the real of shocking news stories– from the Casey Anthony verdict to the fall of Anthony Weiner to the end of News of the World. But fear not, news viewers– some things never change. For example, Donald Trump will never stop hinting at a last-minute presidential run– this week promising to run against a "wrong" Republican candidate at an event in Panama.
According to the Christian Science Monitor, whose correspondent reported on location from Panama City on the opening of the Trump Ocean Club, the real estate mogul is still biding his time to see what the results of the Republican nomination will be. In an interview with the paper, Trump noted that it was "not an easy decision" to drop out of the race for the Republican nomination, "but I think that it will be an easy decision if the Republicans choose the wrong candidate and the economy is bad." While the original text of the article added "[to return to the campaign]" after the phrase "it will be an easy decision," none of the direct text provided was as explicit in his desire to return to the ring. He also added that the pressure to run for president was "incredible" and his "celebrity status" would be a boon for the campaign, but made no promises.
None of these comments are inconsistent with what Trump has said before– in a self-published video commentary last month, Trump suggested that his decision to run would hinge upon Republicans nominating a "loser," but has also said that "no one walks away from a hit show" and that he found the temptation to stay with NBC's The Apprentice too great. If he were to run for president (for real this time), chances are he would announce on the next season of The Apprentice, which experienced a significant ratings surge the last time Trump threatened to run.
If he does end up running– which, after his appearance at the White House Correspondents' Dinner, most people perceive as a joke– he will likely not benefit from the same approval ratings that made him a significant contender in March. The last time Gallup took him into consideration (he was removed from the running after his official announcement against running as a Republican), 64% of those polled said they would "definitely not" vote for him. But if history is any indication, it's going to take a lot more than popularity polls to stop Donald Trump from talking about the possibility of maybe considering a run for the presidency.
[h/t]
Have a tip we should know? tips@mediaite.com