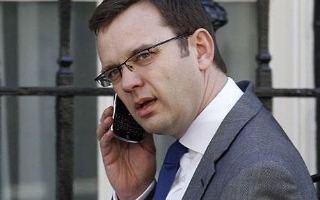 Andy Coulson, British PM David Cameron's former director of communications and News of the World editor from 2003 to 2007, has been informed by police that he will face arrest this Friday in conjunction with the ongoing investigation into the soon-to-be-folded newspaper's actions. Coulson has been asked to present himself at a central London police station tomorrow to face questioning regarding his alleged involvement with the paper's hacking scandal.
Coulson had resigned from his position as Cameron's director of communications in January, claiming that the allegations of his supposed knowledge and encouragement of the ongoing and routine hacking into the phones of various individuals (the list so far includes celebrities, royal aides, missing teen Milly Dowler, family members of slain British soldiers, individuals involved in murder investigations, and family members of those attacked in the 7/7 London train bombing) were making it difficult to perform his job. He resigned from the News of the World in 2007, just before the paper's royal correspondent and its private investigator Glenn Mulcaire were jailed for their roles in hacking into the phones of three senior aides to the Royal Family.
The Guardian shares that a second arrest — that of a "former senior journalist" at the paper — will be made within the next few days. They also expect Coulson to appear in court with three of his former colleagues:
After being questioned by detectives from Operation Weeting – a process that could take several hours – the former rising star of News International is likely to be released on bail conditions that include appearing at court at a later date along with his three former colleagues who have already been arrested: Ian Edmondson, Neville Thurlbeck and James Weatherup.
"Operation Weeting" is the name given to the police investigation of the phone hacking allegations.
h/t The Guardian
Have a tip we should know? tips@mediaite.com