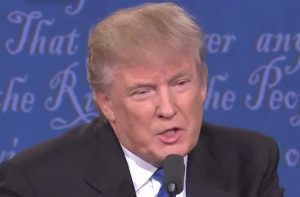 Donald Trump has received a scant few newspaper endorsements in the 2016 race, but he's finally received one from a major city newspaper: The Las Vegas Review-Journal.
The Review-Journal argues in its editorial that "agents for reform often generate fear and alarm among those intent on preserving their cushy sinecures," which accounts for the "vitriol" thrown Trump's way.
Now, they're not completely dismissing Trump's temperament, they've just made the determination that in the grand scheme of things, it pales in comparison to what America needs right now:
Yes, Mr. Trump's impulsiveness and overheated rhetoric alienate many voters. He has trouble dealing with critics and would be wise to discover the power of humility.

But neither candidate will ever be called to the dais to accept an award for moral probity and character. And we are already distressingly familiar with the Clinton way, which involves turning public service into an orgy of influence peddling and entitlement designed to line their own pockets — precisely what a disgruntled electorate now rises up to protest.

Mr. Trump represents neither the danger his critics claim nor the magic elixir many of his supporters crave. But he promises to be a source of disruption and discomfort to the privileged, back-scratching political elites for whom the nation's strength and solvency have become subservient to power's pursuit and preservation.
They believe Clinton would be a "disaster" on the Supreme Court and would "lead us down the same path" of division and corruption.
The Review-Journal, of course, was acquired late last year by GOP megadonor Sheldon Adelson (though it has been reported in recent months that Adelson isn't happy with Trump and has been snubbing him).
[image via screengrab]
— —
Follow Josh Feldman on Twitter: @feldmaniac
Have a tip we should know? tips@mediaite.com
Josh Feldman - Senior Editor