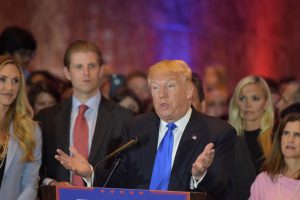 The facts haven't changed Donald Trump's mind.
The Republican candidate is sticking to his conviction that the so-called "Central Park Five" are guilty of the infamous 1989 crime, even though they were exonerated by DNA evidence in 2002.
The five teenagers, four Black and one Latino, were wrongfully convicted of raping and assaulting a jogger in Central Park. Their convictions relied on the five implicating each other after two days of intense coercive police questioning during which time they were deprived of legal counsel, sleep, and food.
At the time, Trump purchased full-page ads proclaiming: "BRING BACK THE DEATH PENALTY. BRING BACK OUR POLICE!" The ad, which was structured as an open letter signed by Trump himself, continued: "They should be forced to suffer and, when they kill, they should be executed for their crimes."
Yuesf Salaam, one of the five teenagers sentenced to prison for the crime, was 15 when Trump bought the ad. "He [Trump] was the fire starter," Salaam told The Guardian this year. "Common citizens were being manipulated and swayed into believing that we were guilty."
The real culprit, already incarcerated for other rapes and murders, came forward in 2002 and revealed that he acted alone; his confession was bolstered by DNA evidence. The Five's convictions were vacated.
As recently as 2013 Trump was steadfast in his belief that the five teens were guilty.
evidence of Trump's casual racism has been around for years pic.twitter.com/xSDd0Qx7ir

— Adam H. Johnson (@adamjohnsonNYC) October 7, 2016
The Five sued New York City in 2003, and they received a $41 million settlement in 2014. Trump called the settlement a "disgrace." He said, "Settling doesn't mean innocence."
This week — almost fourteen years after they were exonerated — Trump hasn't altered his wrong opinion.
"They admitted they were guilty," Trump told CNN this week. "The police doing the original investigation say they were guilty. The fact that that case was settled with so much evidence against them is outrageous. And the woman, so badly injured, will never be the same."
Michael D'Antonio, author of The Truth About Trump, explained to CNN: "He's not a person who takes in new information and then adjusts and accepts reality. The only reality that matters to him is his judgment, which was rendered many years prior."
—
[photo: a katz / Shutterstock.com]
Sam Reisman (@thericeman) is a staff editor at Mediaite.
Have a tip we should know? tips@mediaite.com