Guess Who Surprised Joy Behar For Her Birthday Bash? 'You Need to Show Me Your Birth Certificate'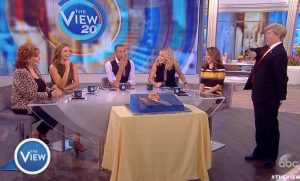 The ladies of The View — with the addition of CNN's Don Lemon — celebrated Joy Behar's birthday today in pretty epic fashion. Before ending the episode, the crew surprised the comedic vet with a walk-on from the GOP nominee himself… well, sort of.
UCB's Anthony Atamanuik, whose turn as a Donald Trump impressionist this past year has earned critical reviews at every turn, came out with a massive Trump cake to present to Behar. He managed a few pretty awesome jokes in-character too.
And for a little insider baseball, Atamanuik hysterically came out and immediately greeted Jedediah Bila and said, "By the way, Roger Ailes says hello."
"Before I can give it to you, you need to show me your birth certificate," he said to Behar with Don Lemon and company cracking up at the table. Check out his spot-on impression of Trump's speaking style in this bit:
And Joy, I want to tell you something, this is so important. There is so many, I've been on the campaign trail, I've been with everybody, and I want to tell you — and I wanted to get you a white cake. I want to get you a white cake. A white cake with vanilla, 'cuz I love white. I can't stand chocolate cake. I hate chocolate cake, I can't stand chocolate cake. I separate, when I go in, I separate the cakes. I put the chocolate cake somewhere. My father and I have been evicting chocolate cakes from bakeries since the early 60s.
…and scene. Watch above via ABC.
—
Have a tip we should know? tips@mediaite.com