Don't Worry, Ma! Julian Assange Is Coming Home For Christmas AKA Out On Bail!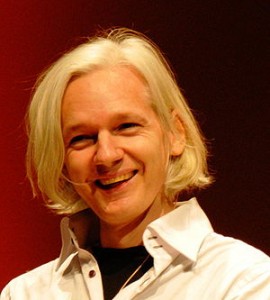 It's a Christmas miracle! After nine days in jail, a British high court has upheld the decision allowing Julian Assange, awesomest person in the world as well as true epitome of evil, to walk free again while he fights those pesky rape accusations. He will be home just in time to trim the tree, send out cards to his loved ones, and search through thousands of classified documents to see if the government has been hiding the true meaning of Christmas from us all.
Of course, we're not the only ones trying to graft his release onto some kind of classic holiday story. Just listen to the quotes from his attorney. From the Los Angeles Times:
"Assange, 39, can now swap what his lawyer calls the 'Dickensian conditions' of a south London jail for the tony comforts of a country mansion owned by a friend, where the high-court judge agreed that he could stay while out on bail. But he must surrender his passport, submit to monitoring by electronic tag, abide by a curfew and report to the police daily.

Also, he must post bail of $312,000, to be paid in cash. Assange's lawyer, Mark Stephens, said the money was available, pledged by various supporters, and that Assange was likely to go free either late Thursday or early Friday, once formalities were completed.

'We're utterly delighted with the result here today,' Stephens told reporters, adding: 'He will not be going back to that Victorian prison.'"
As far as we can tell, this means Assange will no longer be forced to wear rags and beg for gruel, but will instead go live in a mansion thanks to his benefactor, a kindly old woman who won't take her wedding gown off. Or Michael Moore.
Have a tip we should know? tips@mediaite.com