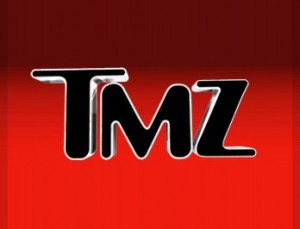 Some of you may have concerns about the rise of our paparazzi culture. Most of you may be concerned about the U.S. government launching drone strikes in other countries. Well, imagine those two forces merged together into some kind of super-horrible nightmare, and you'll understand why there was some concern over a report that TMZ was attempting to acquire a drone to, presumably, carry out some kind of covert operation over Kristen Stewart's house. Okay, not that kind of drone, but it raised enough eyebrows to warrant a headline on the Drudge Report. Now TMZ has had to officially deny they are seeking a drone.
RELATED: SNL Imagines What Would Happen If WikiLeaks And TMZ Joined Forces
This surprising rumor started as a result of an article published Saturday in the San Francisco Chronicle about the increased use of drones in the United States. The article, which reveals that there is an actual "drone caucus" in Congress that deals with such matters, shares this little detail about increased requests for domestic drone usage.
The Federal Aviation Administration has been flooded with applications from police departments, universities, private corporations and even the celebrity gossip site TMZ, all seeking to use drones that range from devices the size of a hummingbird to full-size aircraft like those used by the U.S. military to target al Qaeda operatives in Pakistan and elsewhere.
That one little detail about TMZ applying for a drone got picked up and spread all over the internet like wildfire. Now, this news is surprising, but if it were true, it would not necessarily be unprecedented.
However, TMZ is officially denying that the rumors are untrue in a blog post published earlier today.
TMZ is NOT getting in the DRONE business … we don't have a drone … we don't want a drone … we never applied for a drone … despite a bogus report to the contrary…

Truth is … while drones are, in fact, awesome … it just ain't true.
And cue the collective sigh of relief from everyone in show business.
h/t POLITICO
—–
Follow Josh Feldman on Twitter: @feldmaniac
Have a tip we should know? [email protected]
Josh Feldman - Senior Editor