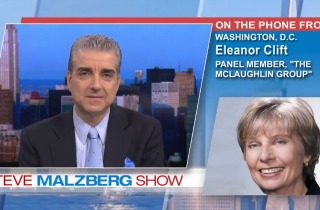 During a recent appearance on The McLaughlin Group, The Daily Beast columnist Eleanor Clift sparked controversy when she asserted that the late U.S. Amb. Chris Stevens died of smoke inhalation resulting from an "opportunistic" attack in Benghazi springing from an inflammatory video. Asked to clarify her assertion with Newsmax host Steve Malzberg on Tuesday, Clift repeatedly said that she stood by her original claim.

"I was taking issue with the sort of glib use of the word 'murdered,' Clift said. "My point is that it was a very chaotic event . The CIA was involved which is why there was a lot of confusion initially, and that all the questions that this special committee is raising have been asked and answered in previous investigations."
RELATED: McLaughlin Group's Eleanor Clift : 'Ambassador Stevens Wasn't Murdered'
"What about the people at 9/11?" Malzberg asked. "Were they not murdered?"
"I was just trying to add a little bit of complexity, and I'm going to stick with what I said," Clift replied.
"I realize this causes a lot of emotion," she added.
"How would you describe his death?" Malzberg asked.
"The way the word has been tossed around I think leaves a different image in people's minds," The Daily Beast columnist clarified. "When you tell most people how the ambassador died, they appear not to have understood what happened."
"If he was, God forbid, your relative, would you tell people that he was murdered or not?" Malzberg asked.
"I would say he died of smoke inhalation," Clift replied.
Watch the clip below via Newsmax:
[Image via screengrab]
— —
>> Follow Noah Rothman (@NoahCRothman) on Twitter
Have a tip we should know? tips@mediaite.com