Elizabeth Warren Calls Out Facebook for Removing Ads in Which Elizabeth Warren Calls Out Facebook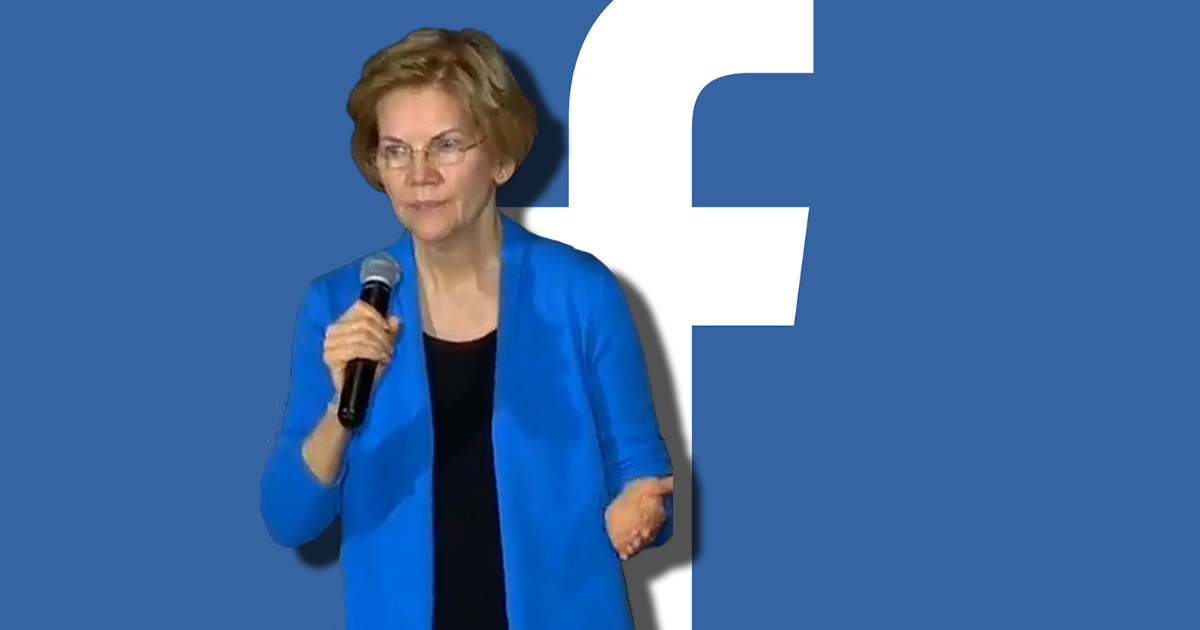 Facebook should be forcibly broken up, along with Google and Amazon, says Sen. Elizabeth Warren of Massachusetts, a 2020 Democratic nomination hopeful and, on Monday, hot social media topic.
Warren has been blasting Facebook on Facebook for a while now, including blasting the company for having "compromised the personal data of millions of Americans" when posting the live stream of the Senate hearing with Facebook CEO Mark Zuckerberg last April. On Monday, Warren blasted them on Twitter in addition to doing so on their own platform, after some of her anti-Facebook content was temporarily taken down.
Three campaign ads, which called for the tech breakup, were removed, each with the message "This ad was taken down because it goes against Facebook's advertising policies." After Politico reported on the story, however, Facebook quickly worked to restore them.
Politico's Cristiano Lima tweeted the story about the takedown, and Sen. Warren retweeted him to further make her case against the company.
Curious why I think FB has too much power? Let's start with their ability to shut down a debate over whether FB has too much power. Thanks for restoring my posts. But I want a social media marketplace that isn't dominated by a single censor. #BreakUpBigTech https://t.co/UPS6dozOxn

— Elizabeth Warren (@ewarren) March 11, 2019
The argument bears a striking resemblance to arguments made by Republican politicians regarding Facebook's ability to remove or censor content with which they disagree, a complaint on the right that is generally treated like a whiny conspiracy by the left.
Sen. Warren, however, seems to share that sentiment.
And she doubled down a few minutes later, retweeting a reply to her comment.
You shouldn't have to contact Facebook's publicists in order for them to decide to "allow robust debate" about Facebook. They shouldn't have that much power. https://t.co/yPi57RHozf

— Elizabeth Warren (@ewarren) March 12, 2019
Warren's ads, along with an article posted by her campaign at Medium, focus on the tech giants from a traditional trust-busting viewpoint, citing their monopolistic ability to crush small businesses and any potential competitors through their reach and market domination.
Today's big tech companies have too much power — too much power over our economy, our society, and our democracy. They've bulldozed competition, used our private information for profit, and tilted the playing field against everyone else. And in the process, they have hurt small businesses and stifled innovation.
However, her tweets on Monday evince a concern for Facebook's ability to manipulate the conversation. That's also the chief complaint of the company's biggest conservative critics.
For example:
The big digital monopolies demand that we conform to their worldview and shut us down when we dissent. They have too much power. They are are threat to this country. Congress is doing nothing about it. It's time to complain, while we still can. #Tucker @FoxNews

— Tucker Carlson (@TuckerCarlson) April 27, 2018
The tweets have obvious similarities.
Facebook says they are restoring the ads Warren posted. Nevertheless, there can be little doubt the fact that they were taken down in the first place will become a regular part of her campaign to break up the tech giants going forward.
[Featured image via screengrab]
—
Follow Caleb Howe (@CalebHowe) on Twitter
Have a tip we should know? [email protected]