ESPN Analyst Teddy Atlas Denounces 'Corrupt' Olympic Boxing, Rips NBC for 'Hiding'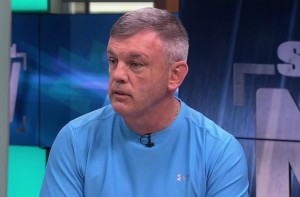 On Tuesday, we told you about Irish boxer Michael Conlan — who went off on what he deemed the "fucking cheats" who run Olympic boxing.
Now, one high-profile boxing figure is backing up Conlan's allegations of corruption.
In an interview with Sports Illustrated, longtime trainer and ESPN analyst Teddy Atlas denounced AIBA, the organization which runs Olympic boxing.
"Look, I've been in boxing all my life, 40 years, this is a powerful statement. I've never seen an organization this corrupt my life," Atlas said.
Check out the full video below, via Sports Illustrated, in which Atlas goes on to rip NBC for limiting coverage of the sport in an attempt to mask the corruption.
Atlas called Olympic boxing for NBC in 2012 along with Bob Papa. Before those Games, there were rumors that Azerbaijan paid $10 million to AIBA for two Gold medals. Atlas and Papa called a fight in which a boxer from Azerbaijan was knocked down five times in three rounds and was still given the decision. (Which was later overturned.)
The broadcast duo ripped the decision, and according to Atlas, Dr. Wu Ching-Kuo, the president of AIBA, had he and Papa physically removed from the arena during the broadcast.
Atlas and Papa were not brought back for 2016 boxing coverage on NBC, and the analyst claims that it's part of an effort to mask the darker aspects of Olympic boxing.
There's already been a couple bad decisions. And it hasn't been highlighted the way it was highlighted in 2012 because — I'm not putting emphasis on me — but me and Papa aren't there. And NBC has done a really good job of hiding the boxing. Surf through the channels, they don't show it, they're hiding it. So, if that's the answer, shame on them.
[image via screengrab]
–
Follow Joe DePaolo (@joe_depaolo) on Twitter
Have a tip we should know? tips@mediaite.com
Joe DePaolo - Senior Editor