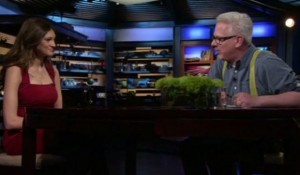 Not to be outdone by the folks at Fox News, Glenn Beck sat down Monday with Kylie Bisutti , a former Victoria's Secret model, turned teen role model. Bisutti decided to quit modeling for Victoria's Secret after she realized that her actions weren't honoring God. She expected a barrage of criticism for quitting but she tells Beck that so far it's been mostly beneficial.
Beck inquired about her early life, and Bisutti revealed that she grew up in prude ole' Las Vegas. She told Beck that she had dreamed of modeling since she was young. She was baptized at the age of 16, soon after she moved to New York, and her modeling career flourished. At 19, she had claimed the title of Victoria's Secret Angel.
RELATED: Victoria's Secret Models Help Fox News With The Weather Report
Modeling and living in New York City, amongst the "lions," Bisutti began to question her field of work. She had been modeling for FHM and Maxim when she recognized her less-honorable profession.
"My faith is more important and I want to honor God," Bisutti told Beck. "I don't feel like I am honoring him when I am half-naked."
She later claimed that she found no happiness in her line of work, "I thought all that attention, parties, runways would make me happy," Bisutti stated. "It was all empty and selfish, and really when it comes down to it… the only thing that makes you happy is fulfillment and love for others."
Now 21 years old and married, she refuses to model lingerie, but will continue to model women's clothing. She claims that she's now much happier as a fully clothed model. In the future, she wants to work on being a "positive role model" for young girls and to deter other girls from pursuing her early half-naked aspirations. She added that there is, "no happiness in getting that kind of attention"
Watch the interview below, courtesy of Glenn Beck TV,
Have a tip we should know? tips@mediaite.com