Exclusive: Complete Million Armed Militia Man March Video Pulled From YouTube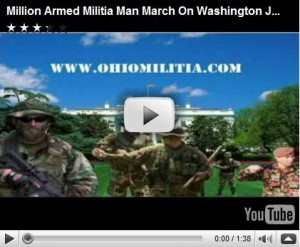 On last night's The Rachel Maddow Show, Rachel played a portion of a Youtube video by an Ohio militiaman named "Pale Horse," believed to be indicted HUTAREE militia member Kristopher Sickles. In the video, "Pale Horse" urges a "Million Armed Militia Man March" on Washington, DC, to have taken place July 4, 2009.
The video was deleted shortly after it was posted last April, but I still had it open in my browser, and was able to shoot it with my camcorder. While the march never materialized, it shows the frightening ambitions of this movement. See the full video and the Maddow segment after the jump.
For about a week now, Rachel Maddow has been sounding the alarm about militia-style activity, including a 2nd Amendment March on Washington, DC slated for April 19th. That date is the dual anniversary of the 1993 Waco siege and the 1995 Oklahoma City bombing.
In this video, "Pale Horse" tries to organize "A peaceful demonstration of at least a million – hey, if we can 10 million, even better – but at least one million armed militia men marching on Washington. A peaceful demonstration. No shooting, no one gets hurt. Just a demonstration. The only difference from any typical demonstration is we will all be armed."
The video was posted just after DHS Secretary Janet Napolitano took fire for a report warning of "right-wing extremists," and in the words of Michele Bachmann, right about now she's looking like Nostradamus.
Here's the full Maddow segment, including the excerpt of the Ohio Militia video:
Have a tip we should know? tips@mediaite.com