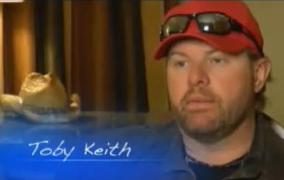 Sarah Palin's Real American Stories special premiering tomorrow night is continuing to draw controversy today (also, we got a sneak peek of the show).
First it was LL Cool J, and now representatives for Toby Keith are speaking out about their surprise regarding the country star's inclusion in the show.
According to HitFix:
Keith, who says he's a registered Democrat, was not told about the usage of a past interview for Palin's program. "We were never contacted by Fox," his rep tells Hitfix."I have no idea what interview it's taken from.They're promoting this like it's a brand new interview. He never sat down with Sarah Palin.
Well we knew he wasn't interviewed by Palin, but he is a significant part of the special – and more so than LL Cool J (and Jack Welch). His story is narrated by Palin.
But Fox tells us they did contact several members of Keith's team to make them aware that he would be part of the program, including Elaine Schock, his publicist, who spoke with a Fox News producer, and the USO, where his manager is on the board. An insider tells us Welch wasn't contacted either – and as far as we know, is happy with his part in the show.
Meanwhile, the back-and-forth with LL continues. His rep tells E Online, "Contrary to what was reported, LL Cool J was never scheduled to be a guest on Real American Stories with Sarah Palin this week. The show had planned to use an interview from 2008 that was being repurposed without LL's permission. This statement is not a reflection of any feelings LL has toward Fox News or Ms. Palin, whom he has never met, rather a clarification of what we have seen published in the media."
And a Fox News spokesperson tells Mediaite: "Fox News did not commit to restrictions on its interview with Mr. Smith so therefore the network did not need his permission to use the interview in this program."
All caught up? Good. Things always get interesting with Sarah Palin around.
—–
» Follow Steve Krakauer on Twitter
Have a tip we should know? tips@mediaite.com