Expert Claims TSA Policy Could 'Groom Children To Cooperate With Sex Predators'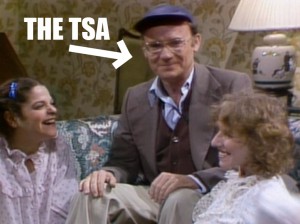 Raw Story has some interesting quotes from Ken Wooden, the founder of the child abuse prevention organization Child Lures Prevention who claims that a part of the TSA pat down procedure could potentially help "groom" children for predators. Importantly, Wooden is not talking about the pat downs themselves, but rather a TSA recommendation that parents instructs children that the pat down is "a game." It could be worse. They could be calling themselves "Uncle TSA Agent."
From Raw Story:
"Telling a child that they are engaging in a game is 'one of the most common ways' that sexual predators use to convince children to engage in inappropriate contact, Wooden told Raw Story.

Children 'don't have the sophistication' to distinguish between a pat-down carried out by an airport security officer and an assault by a sexual predator, he said.

The TSA policy could 'desensitize children to inappropriate touch and ultimately make it easier for sexual offenders to prey on our children,' Wooden added."
Before we all start to panic, the quote that Wooden seems to be referring to might actually be three years old. It comes from TSA regional security director James Marchand. Marchand was speaking to CW39 about the video from Steve Simon, one their staff's daughters getting patted down (that video is also the one of the screaming little girl that got a lot of publicity last month as many thought it was more current). Here's the quote in question from The New York Daily News:
"In the report, Simon interviewed TSA regional security director James Marchand, who agreed that measures should have been taken to make the child more comfortable.

'You try to make it as best you can for that child to come through. If you can come up with some kind of a game to play with a child, it makes it a lot easier,' said Marchand, promising to make it part of TSA training."
Whether the quote is three years old or not, it certainly doesn't take a child abuse expert to guess that that's a terrible, terrible idea and one that we hope the TSA squashed quickly. If they didn't, and the Raw Story piece gains any traction, we're sure they'll be releasing statements soon promising that they will.
So, yes, folks already freaking out about the pat downs, you might have something new to worry about. Don't thank me for bringing it to your attention though. I work in the media, it's my job to keep you terrified.
(h/t Slate)
Have a tip we should know? tips@mediaite.com