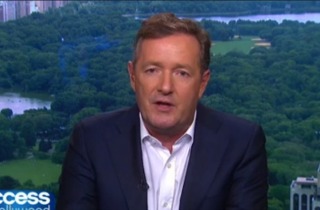 Did you guess that our hed referred to Piers Morgan? Because yes indeedy-do, it's Piers Morgan, skipping through the public discourse, spreading his opinions about the topic du jour like a newly-minted columnist would do. Today's subject is Monica Lewinsky, who made her public comeback with a widely-seen speech on cyberbullying, and his headline is pretty blatant: "It wasn't the Internet that ruined your reputation, Monica, it was lust in the world's most powerful room – now welcome to Twitter!" (Yes, that's not a sentence, that is a headline.)
"I speak as something of an expert in this area given that I was recently reported to be the most abused public figure on Twitter in Britain," he admitted at the beginning of his Monica Hot Take, published on the Daily Mail:
But the kind of nonsense I have to put up with -– someone recently tweeted my eldest son to inform him that he hoped I was soon beheaded -– pales into insignificance compared to the abhorrent misogyny, sexism and often criminal insults (threats to rape etc) that high profile women have to endure.

So yes, I absolutely agree with Monica that something must be done to stem this tide of filth. Social media giants like Twitter and Facebook need to radically and speedily change their current laissez faire attitude to a growing, despicable menace.

Where I find myself at odds with Ms Lewinsky, however, is her claim that she, personally, was 'shamed' by the internet.
He was quick to say that he wasn't judgy about the actual sex stuff that went on between Monica and Bill — "Most of my favourite American leaders, from Presidents Clinton and Kennedy to Generals Patton and Petraeus, were womanisers" — and, at some weird level, sympathized with her plight. "I admire Monica Lewinsky for rebuilding her life," he said. "But I find it pretty distasteful that she received a big fat fee to make a disingenuous speech about how she's been such a victim of internet shaming – and then received a standing ovation from the audience." More:
It wasn't the internet that shamed you, Monica; it was your predilection, like Bill Clinton's, for illicit cigar-fuelled lust in the world's most powerful room.

You were 22, not 16. And you both knew you were playing with the kind of fire that destroys forests in the Californian summer.

He should shoulder the lion's share of responsibility because he was a much older man and unlike you, he was married.

But you're not blameless and in your heart, you know that.
And then Piers received a "big fat fee to make a disingenuous" column about internet shaming, and how some people rather deserve it.
[The Daily Mail]
[Image via screenshot/Access Hollywood]
— —
>> Follow Tina Nguyen (@Tina_Nguyen) on Twitter
Have a tip we should know? tips@mediaite.com