Michael Savage Rants Against Military PTSD Sufferers: 'No Wonder ISIS Can Defeat' Us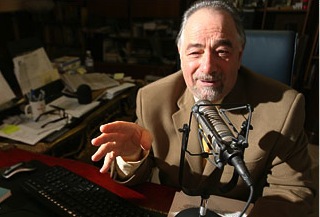 Mark down this date: October 14, 2014. It was on that day that someone in the media managed to deliver a psychiatric hot take so steaming hot that it managed to outdo even the most notorious quackery from Fox's Keith Ablow.
The hot take? PTSD and depression sufferers are why ISIS could conceivably defeat the U.S. military. The hot taker? Conservative radio host Michael Savage.

Transcript below, via MMfA [emphasis ours]:
I am so sick and tired of everyone with their complaints about PTSD, depression. Everyone wants their hand held, and a government check. What are you, the only generation that had PTSD? The only generation that's depressed? I'm sick of it. I can't take the celebration of weakness and depression.

See, I was raised a little differently. I was raised to fight weakness. I was raised to fight pain. I was raised to fight depression. Not to give into it. Not to cave into it and cry like a little baby in bed. "Boo-hoo-hoo. Boo-hoo-hoo." Everyone has depression in their life. Everyone has sickness and sadness and disease. And loss of relatives. And loss of career. Everyone has depression in their life. But if the whole nation is told, "boo-hoo-hoo, come and get a medication, come and get treatment, talk about mental illness." You know what you wind up with? You wind up with Obama in the White House and liars in every phase of the government. That's what you wind up with. It's a weak, sick, nation. A weak, sick, broken nation. And you need men like me to save the country. You need men to stand up and say stop crying like a baby over everything. Stand up already. Stop telling me how sick you are and sad you are. Talk about the good things in your life.

When have you last heard that? Oh, everyone's holding their hand. "Oh, welcome to Good Morning America, sir. You almost committed suicide, how interesting. Please tell us your story." Maybe a young child who's on the edge can commit suicide. What a country. No wonder we're being laughed at around the world. No wonder ISIS can defeat our military. Take a look at that. Take a look at that, why people aren't even getting married anymore to have children. They don't even have the guts to raise a child. The men are so weak, and so narcissistic, all they want to do is have fun. Bunch of losers. Just go have a brewski and look at the 49ers, you idiot, you. They won't even get married, won't have a child, it takes too much of a man to do that. What a country. You're not a man, you're a dog. A dog raises babies better than most American men do.
Savage used to host a show on MSNBC.
The bar has officially been raised. Will Ablow meet the challenge and dare take on the troops during one of his patented Fox News snake-oil salesman psychology rants, or will he officially cede the King of Hot Takes crown to Savage? More to come.
Listen below:
— —
>> Follow Andrew Kirell (@AndrewKirell) on Twitter
Have a tip we should know? tips@mediaite.com