#FakeNews: Twitter Mocks Trump for Citing Nonexistent Terror Incident in Sweden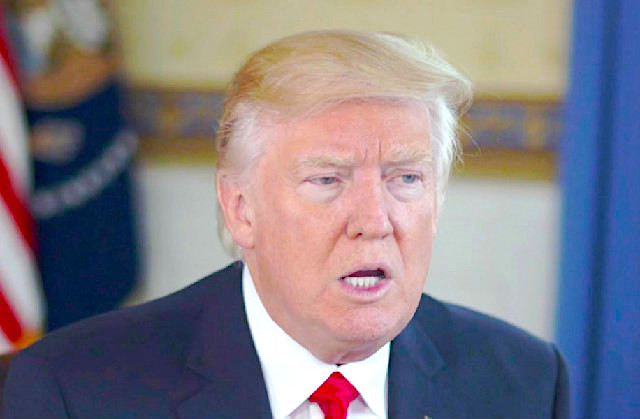 President Trump is getting a lot of blowback on Twitter tonight after he tried to justify his restrictions on immigration by referencing an incident that took place in Sweden. The problem is, no one really seems to know what Trump is talking about.
During a rally today in Florida, Trump talked about "what's happening last night in Sweden" as he defended his blocked executive orders to limit immigration from several Muslim nations. Sweden did not experience any kind of specific major terror attack in the past 24 hours, and it would appear that Trump was referencing a Friday night Fox segment where Tucker Carlson discussed Sweden's immigration policy.
This seems to be the latest instance where Trump lifted talking points from television he was watching.
As things stand, Trump is getting mocked by those who are saying that by hyping up a false terror attack, he's doing exactly what Kellyanne Conway and Sean Spicer have done:
Trump on terrorism: And what happened last night in Sweden was terrible…

Donald, there was NO incident last night in Sweden.#FakeNews

— Michael Skolnik (@MichaelSkolnik) February 19, 2017
Maybe the victims of The Bowling Green Massacre will have a fundraiser for the victims of last nights incident in Sweden. ? #TrumpRally

— Jennifer Hubbartt (@JenHub17) February 19, 2017
Conway makes up Bowling Green Massacre. Spicer makes up attack in Atlanta. Trump makes up attack in Sweden. All fake; all blamed on Muslims.

— Melissa McEwan (@Shakestweetz) February 19, 2017
Everyone mad at Trump for not denouncing the mosque shooting, but no one's giving him credit for talking a/b the Sweden attack he made up.

— Geraldine (@everywhereist) February 19, 2017
Swedish press responds to the alleged "terrorist attack" claim made by Trump. Here is what really happened in #Sweden: pic.twitter.com/qr5NEavfjG

— Ines Helene (@inihelene) February 19, 2017
@sweden the real crime here in Sweden is being committed on a daily basis. Swedes eating pizza with a fork. Pizza massacre, sad!

— Kitty Stardust (@ElliottBord) February 19, 2017
Nothing happened here in Sweden. At all. Please read these tweets: https://t.co/22ocf6vzJF https://t.co/4kDr4cf4rt

— @sweden / Emma (@sweden) February 19, 2017
Again! I don't know what Donald Trump is talking about, but according to the three main news papers nothing has happened,apart from Melfest. https://t.co/XWzHPSSYaR

— @sweden / Emma (@sweden) February 19, 2017
We survivors of the Bowling Green Massacre stand in solidarity with the tragic victims of The Sweden Incident. Oh, the horror. The horror.

— Comcha Terra (@ComchaTerra) February 19, 2017
NOT BOLD PREDICTION: WH staff will present some random crime in Sweden last night as a "terror attack" rather than admit Trump effed up.

— Eric Schmeltzer (@JustSchmeltzer) February 19, 2017
More #Sweden incident footage. #Trump @FoxNews #TrumpRally pic.twitter.com/vKqQR7lpPm

— ~FN2187Harris (@Currtis25Harr) February 19, 2017
[Image via screengrab]
— —
>> Follow Ken Meyer (@KenMeyer91) on Twitter
Have a tip we should know? tips@mediaite.com