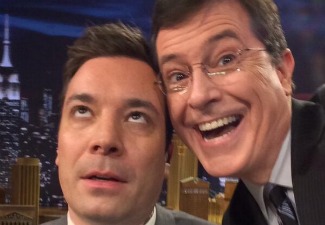 Less than two months after welcoming Jimmy Fallon to 11:30, Stephen Colbert has now been anointed Fallon's new chief competitor, and in the wake of today's big news, Colbert's late night bretheren welcomed him into the fray with open arms.


There was always a sense of rivalry between Jay Leno and David Letterman, but Fallon and Colbert collaborated together in increasingly insane ways over time in a feud that resulted in a pact that they would be best friends forever for six months. Fallon tweeted out his well-wishes to Colbert on the big move.
I'd like to welcome the great @StephenAtHome to network late night and also congratulate him on his new name: Jimmy Colbert.

— jimmy fallon (@jimmyfallon) April 10, 2014
Seth Meyers also tweeted about the news.
Congratulations to @StephenAtHome! Could not have happened to a nicer guy

— Seth Meyers (@sethmeyers) April 10, 2014
Meanwhile, CBS' other late night host, Craig Ferguson welcomed Colbert into the network "funhouse."
Congratulations to the hugely talented and fragrant and lovely @StephenAtHome on the new gig. Welcome to the CBS funhouse.

— Craig Ferguson (@CraigyFerg) April 10, 2014
Jimmy Kimmel tweeted out some warm sentiments as well.
Congratulations to @StephenAtHome #StephenColbert – a finer or funnier man I do not know.

— Jimmy Kimmel (@jimmykimmel) April 10, 2014
Arsenio Hall also congratulated Colbert, though he did so in a pretty sarcastic manner.
Even though Dave Letterman wants ME to replace him, @CBS wants Stephen Colbert! Oh well. You go SC! #congratz

— Arsenio Hall (@ArsenioHall) April 10, 2014
There was, of course, the requisite observation or two that it was only a week ago when #CancelColbert was trending.
Looks like the #cancelcolbert people got their way.

— Michael Ian Black (@michaelianblack) April 10, 2014
So I guess this means #CancelColbert worked? After a fashion?

— gwen ifill (@gwenifill) April 10, 2014
Congratulations to #CancelColbert RT @pkafka: CBS ANNOUNCES STEPHEN COLBERT AS THE NEXT HOST OF "THE LATE SHOW"

— Andrew Kaczynski (@BuzzFeedAndrew) April 10, 2014

[photo via Stephen Colbert]
— —
Follow Josh Feldman on Twitter: @feldmaniac
Have a tip we should know? tips@mediaite.com
Josh Feldman - Senior Editor