Florida Authorities Release PSAs To Warn Against Post-Zimmerman Trial Violence, The Five Hosts React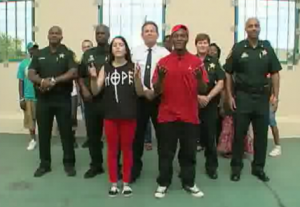 There has been a lot of concern this week about possibly unpleasant reactions to George Zimmerman being found not guilty, and the Sanford, Florida police department is taking precautions to make sure it doesn't happen. The Sanford PD is teaming up with the Broward County Sheriff's Office to make video PSAs encouraging people to speak up without resorting to violence in anticipation of potentially violent responses to the verdict.
Zimmerman lawyer Mark O'Mara told Piers Morgan this week that "my client will never be safe again," while others like Bill O'Reilly have expressed their concerns that an acquittal could lead to violence. Whatever the case may be, local Florida authorities are taking precautions against potential violence that may occur.
Freedom of expression is a constitutional right. While raising your voice is encouraged, using your hands is not. BSO has created a public service announcement with the help of kids from the Jason Taylor Foundation, H.A.N.D.Y. (Helping Abused, Neglected, Disadvantaged Youth) and basketball star James Jones of the championship Miami Heat team urging young people not to let their emotions get the best of them.

"We don't have information about a specific event that might take place at the conclusion of the trial, but we encourage everyone to keep any protests peaceful," Sheriff Scott Israel said.
On Fox's The Five today, Bob Beckel said it would be very helpful for black leaders like Jesse Jackson and Al Sharpton to speak out against violence before the verdict comes in. Greg Gutfeld echoed a sentiment expressed by Mediaite's Noah Rothman today by wondering if it's "racist to assume there's going to be rioting among certain communities" as a result of a not guilty verdict.
Watch two video PSAs below:
And you can watch The Five's coverage here, courtesy of Fox News:
—–
Follow Josh Feldman on Twitter: @feldmaniac
Have a tip we should know? tips@mediaite.com
Josh Feldman - Senior Editor