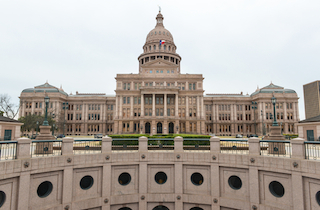 Per the Houston Chronicle, Joseph Basel of the American Phoenix Foundation has employed up to sixteen people to track Texas Republicans with hidden cameras in order to record potentially embarrassing or provocative footage. The groups aims to use the reported 800 hours of tape to unseat the lawmakers in favor of more rightward leaning candidates in the next election cycle.
The cases have legislators on edge, as there have already been confrontations this session with aggressive advocates, leading to the proposed installation of panic buttons installed in lawmakers' offices.
RELATED: Open Carry Activist Warns Texas Lawmakers: Treason 'Punishable by Death'
Via the Chronicle:
Last week's encounters at the Capitol were described by lawmakers as attempts to provoke responses on hot-button policy issues, along with questions about Republican House Speaker Joe Straus, a consistent target of criticism in tea party circles.

Lawmakers said cameras were disguised as lapel pins or hidden in a briefcase, and some characterized the incidents as harassment because the men repeatedly pursued legislators through the hallways of the Capitol and off Capitol grounds. One lawmaker was approached while eating dinner with his wife at a Tex-Mex restaurant in downtown Austin.

"It's like they were almost stalking us," said Rep. Patricia Harless, R-Spring, who navigated a detour through the Capitol with another female lawmaker last Friday to avoid the group.

…"It's a sleazy campaign tactic," state Rep. Charlie Geren, a Fort Worth Republican who was approached three times last week, said of the secret videotaping. "There's some real scumbags in this business."
Basel was arrested along with right-wing provocateur James O'Keefe for allegedly bugging then-Senator Mary Landrieu's (D-LA) phone in 2010. The two pled guilty and were sentenced to probation. At least one of the videographers currently employed by Basel has been arrested for trespassing, in that case while working for the late Andrew Breitbart.
[h/t Houston Chronicle]
[Image via screengrab]
——
>> Follow Evan McMurry (@evanmcmurry) on Twitter
Have a tip we should know? tips@mediaite.com