Former Prisoner: 'For-Profit' Prisons Churning Out Waves Of Violent White Supremacists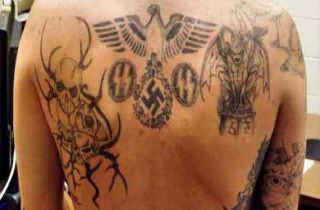 The nation's "for-profit" prisons have been incubating thousands of Aryan Brotherhood gang members and, as their sentences expire, they are prepared to flood the nation. This wave of white supremacist gang members will emerge from the nation's prisons and engage in a terrorist campaign of targeted revenge which will soon evolve into indiscriminant mayhem and racial violence. At least, this is the warning of an anonymous former prisoner writing for The Daily Beast.

RELATED: Ohio Attorney General: 'Mainstream Media' Handled Steubenville Rape Case 'Very Responsibly'
"Law enforcement may have a real problem on its hands," writes a former prisoner who declined to share his name in a piece recently published in The Daily Beast. "They're being tight-lipped about it, but it's something they should have been aware of for decades. They had to see it coming."
"Four people have been killed since the beginning of the year in a series of shootings that appear to be connected to the homegrown jihadists of the Aryan Brotherhood," Anonymous asserts. He cites the murders of Kaufman County, Texas District Attorney Mike McLelland and his wife, his predecessor Mark Hass, and Colorado prison chief Tom Clements as examples of bloodshed committed by the Aryan Brotherhood. Reports have linked the assassination of McLelland to his targeting by Aryan Brotherhood members.
The writer goes on to detail the ideology that motivates the average Aryan Brotherhood member:
They were still mentally fighting the Civil War (like so many other whites) and traced their roots back to men like Confederate guerrilla William Clarke Quantrill, whose Quantrill's Raiders sacked the pro-abolitionist town of Lawrence, Kansas, at the beginning of the Civil War.
The author of the post in The Daily Beast issues a stark warning to Americans: the Brotherhood is coming.
America's harsh judicial system, coupled with a growing national affinity for utilizing complete isolation at super-max prisons as a corrections tactic of first choice, in many cases turns men into monsters. And, truth be told, there is no such thing as truly locking away the gang leaders so they can no longer call the shots on the prison yard … or even on the streets.
"Many of the first men locked up when our nation embarked on a policy of for-profit mass incarceration near the end of the last century are now returning into society," the former prisoner writes. "And, as predicted by numerous professionals, they are sicker and more dangerous than when they went behind bars."
The fear among law enforcement is (or at least should be) is that now we have dozens upon dozens — if not hundreds (who knows, maybe even thousands) — of murderous chickens finally coming home to roost.
Read the full post via The Daily Beast
> >Follow Noah Rothman (@NoahCRothman) on Twitter
Have a tip we should know? tips@mediaite.com