Did The Drudge Report Fall For Newspaper-Delivering Drones April Fools' Day Hoax?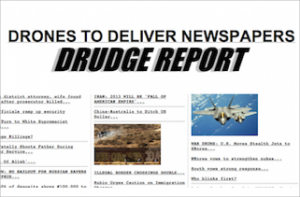 April Fools' Day can be treacherous in the news business, as influential conservative aggregator The Drudge Report may have discovered earlier today. For approximately 20 minutes this morning, the giant, above-title link on the site screamed "DRONES TO DELIVER NEWSPAPERS" and linked to an article of questionable authenticity on the San Francisco Chronicle's website, which was in turn provided by Business Insider.
The original article, which refers to a blog post by French postal service La Poste Group, describes, without irony, the company's plan to employ tiny Parrot drones to deliver mail in the southern province of Auvergne. It goes on to describe Fedex's plans to use a very different type of drone to transport packages across the United States.
The link has since disappeared from Drudge's home page, but Gawker's Max Read caught the error, deeming the story "bullshit," whether it was actually an April Fools' prank or simply an unrelated marketing stunt. According to gadget writer Joel Johnson, who has worked with Parrot AR drones and emailed Read about the story, "the whole thing is clearly a stunt." Johnson added, "Not only do AR Drones not have enough battery life to be of any practical use—they can fly for maybe 10 minutes in a typical windy day, and that's without a multi-ounce newspaper payload—they don't have the kind of clever sensor packages on board to do any autonomous navigation in a city, even if they were being remote controlled by an offboard computer."
So, was Matt Drudge in on the joke, posting a link to the obviously fake story as their own version of an April Fools' Day prank? Or was he the one getting fooled?
—
>> Follow Matt Wilstein (@TheMattWilstein) on Twitter
Have a tip we should know? tips@mediaite.com