Fox News' Brit Hume Thinks It's a 'Stretch to Say' John Podesta's Email Was Hacked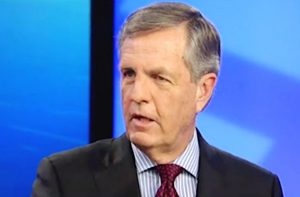 During Sean Hannity's one-on-one interview with WikiLeaks founder Julian Assange that aired last night on Fox News, at one point, Assange made the case that a "14-year-old" could hack into Hillary Clinton ally John Podesta's email via a phishing email, especially since Podesta gave that his email password was "password."
The morning after the broadcast, President-elect Donald Trump took to Twitter to seemingly side with Assange over America's intelligence community regarding the allegations that Russia was involved in the hacking while also blaming the DNC for not securing their emails better.
Well, it isn't just Trump who would like to toss the blame on Podesta and Democrats for getting hacked. In response to a tweet by Daily Mail US stating that "Assange reveals Podesta's password was 'password'," Fox News Senior Political Analyst Brit Hume claimed that it would be a stretch to call it hacking.
If this is right and he responded to an phishing email, it seems a stretch to say he was "hacked." https://t.co/xKjpLAY5oy

— Brit Hume (@brithume) January 4, 2017
Trump staffers have taken to placing the blame on the hacks at the feet of the DNC and Podesta recently. Besides Trump's tweets today, incoming White House Press Secretary Sean Spicer and soon-to-be White House counselor Kellyanne Conway have pointed the finger at the DNC and Hillary Clinton in recent weeks.
Trump has questioned the conclusions reached by the intelligence community that Russia tried to meddle in the election via hacking, calling the assessment "ridiculous" and recently sending out a tweet mocking the intelligence heads for supposedly delaying a briefing over "so-called Russian hacking."
[image via screengrab]
–
Follow Justin Baragona on Twitter: @justinbaragona
Have a tip we should know? [email protected]